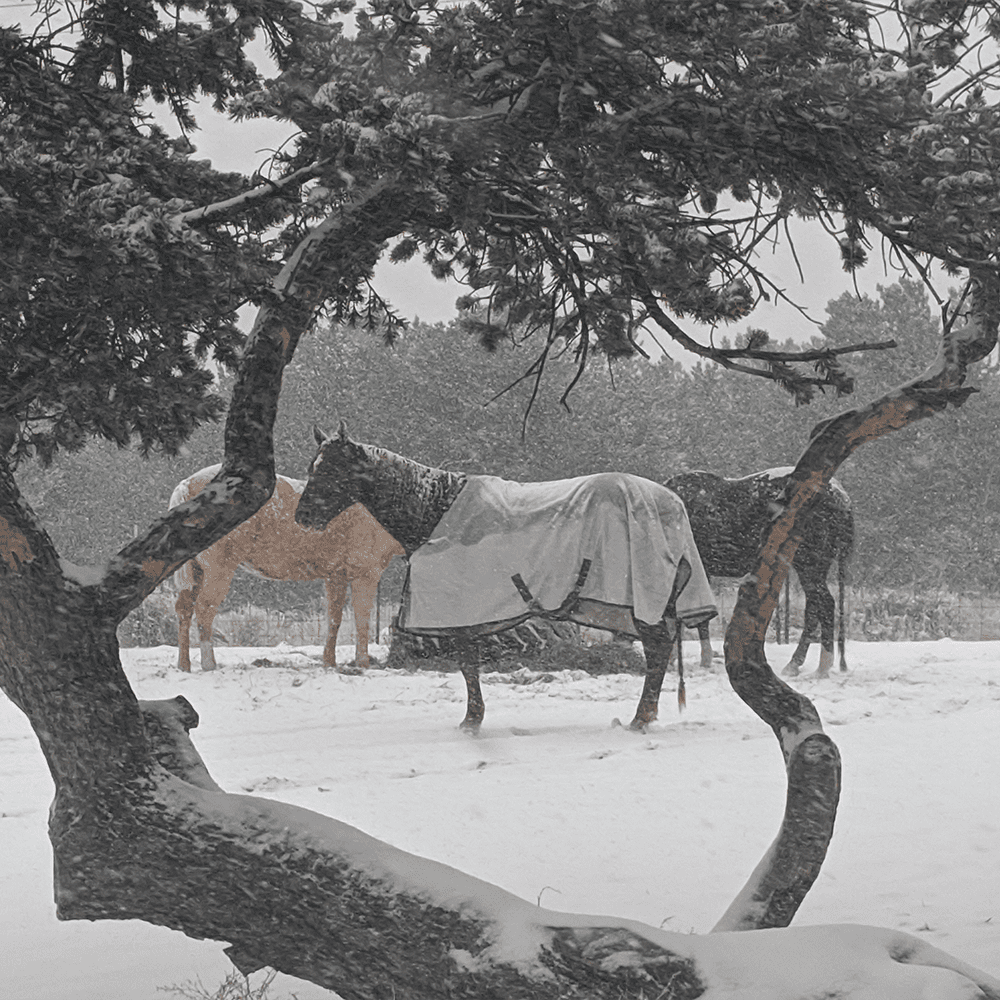 Summer came to a screeching halt around our ranch, just two days after record heat on Labor Day, when we were hammered with well over a foot of snow and temps in the low 20s and highs in the 30s (yes, Fahrenheit). We went from fly sheets to mid-weight winter blankets in one day (we save the heavy artillery for true winter). We will certainly still have some warm, summer-like days ahead of us (I hope), but most likely our nights will get colder as the days shorten.
My young horse Pepperoni and I, alongside Rich and his horse Casper, took a trip to my friend Lucy's ranch where we did some high-mountain riding in the Sangre de Cristo Wilderness. I was super pleased with Pepper's performance on the rough, steep and (at times) treacherous trail. He was strong, sure-footed and willing; we rode in every position in the line-up—he even led bravely the descent. The trip inspired me to write a blog series on the making of a great trail horse.
Normally I haul two horses (Pepper and Annie) to clinics at C Lazy U, where I am in the saddle all day. But I've decided to take only Pepper to the next clinic—a sure sign of his maturity and reliability. It's a good thing Fall is such a glorious time of year here in the Rockies, because I'll be in the mountains, conducting horsemanship clinics for the next month.
I have three programs at the C Lazy U Ranch in northern Colorado and one in Jackson Hole Wyoming, for the winner of the Equus & W.F. Young Win A Day contest. I'm excited about the two new programs we are offering in October—The Fall Getaway (a fun mountain vacation hosted by Barbra Schulte and her husband Tom, and my husband Rich and me) and Horsemanship Immersion  (an education-intensive program for insatiable learners, covering equitation, groundwork, training, health, saddle fit, etc.). If you are looking for an adventure—there are still a few openings in both programs. Find out more.
My little mare Annie (14.0 hands in high heels) still carries the load when it comes to media production. She's a finished cow horse, in her prime, and still my go to horse (although Pepper is creeping up on her). Last week we recorded video for some virtual events this fall. The Certified Horsemanship Association's annual conference has gone virtual and is happening on October 30th. The conference is open to anyone, and will offer educational horsemanship clinics—both English and Western—from a variety of nationally known presenters, including yours truly.
My clinic is called Lead Changes: Simple and Flying, and we recorded the riding portion last week. I rode Annie in the clinic, plus I had two English riders and one Western rider. The horses (and one pony, not counting Annie) and riders were all at different training levels, from a youth rider to a pro rider. In spite of having about 15" of heavy wet snow on the ground the day before and high winds during the shoot, we pulled off a great clinic! Certified Horsemanship Association's Virtual Conference is open to anyone. It's chock full of horsemanship education, and you can participate right from the comfort and safety of your own home! You can register here at the discounted member rate by entering the priority code JG ($60 off!).
Here in the high mountains of Colorado, there's not much left of summer. But I'm looking forward to a fabulous fall riding season and getting back on the road with my horses. It's certainly been a strange year, and one we all look forward to seeing in our rearview mirrors. I think many of us horse lovers are grateful to have the stability, connectivity and grounding that horses and the accompanying (never ending) chores give us. I know I am.
Enjoy the ride,