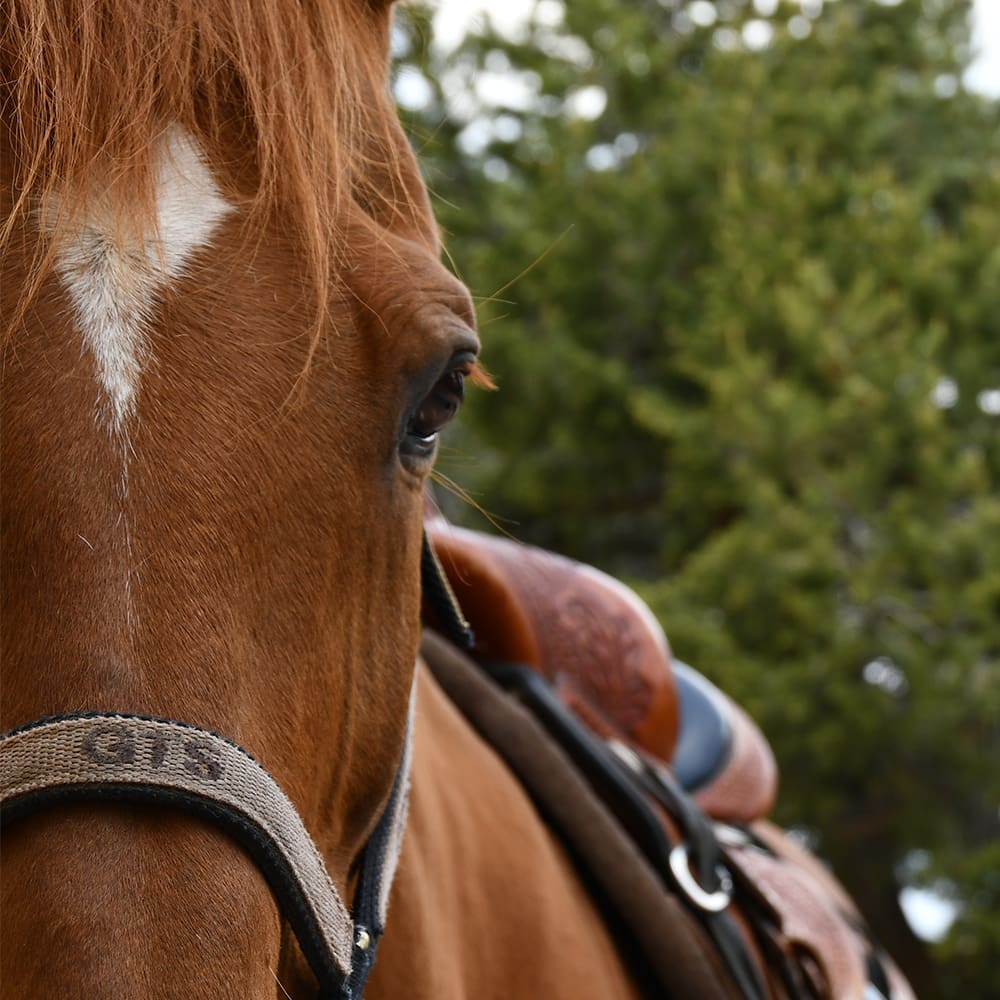 I'll admit, it's been a bit of a lazy summer for me, and I've had lots of time to enjoy my horses in a more casual way. With no clinics, expos or tv projects looming in my immediate future, and no deadlines to meet or now-or-never things I must accomplish, it's been refreshing to just play with my horses.
Pepperoni and I were recently called into action on a search & rescue mission for our old Lab, Samantha, who panicked and bolted the night of July 4th when the fireworks started. She was with us while we were out in the barn checking on the horses (also unsettled from the fireworks)—one minute she was by our side, and the next minute she was gone. For hours we combed through chest-high hay fields in the dark, stumbling over hidden irrigation ditches, searching for our frail old friend. 
Calling off the search at midnight, we went to bed with heavy hearts. In the morning, we were alerted that someone had found her and taken her in right after she fled. It turns out she had a lovely night of attention from kids, lots of treats, and sleeping on a comfy bed. I was proud of Pepper's willingness to leave the barnyard—in the dark and by himself. He proved himself a reliable first mate!
My lovely QH mare, Annie, is also doing well. Without much pressure on her to perform, she's mostly in a maintenance stage of training. Finished in the bridle (and sans bridle), skilled at just about anything you'd ask a Western horse to do, and awesome on the trail, she's a valuable horse to have in my quiver. 
I love having a horse that I can teach from, make videos with, trail ride, and that is also gentle enough to put friends on. But having the time to devote attention to more than one personal horse is challenging, even for a trainer. Fortunately, I have Mel to help me keep all the horses exercised and ridden.
My beautiful foster horse, Truth Takes Time, has impressed us all with just how far she has come in the last few months. She's gained weight, improved her topline significantly, lost her giant broodmare belly, and the fluidity of her gaits has improved tenfold! 
She's gone from burying her head in the corner of the stall when you approach with a halter, to eagerly meeting us at the gate and nickering for attention. She's  transformed from angry and defensive about being touched to practically loving her grooming time. At every step of her training, she's proven herself to be a willing partner. 
Truth is also great in the herd. She's bold and brave, but gets along well with others, and she has become Remington's newest nanny. He's a 9-month-old Clydesdale colt that is temporarily living with us until he is old enough to run with the herd of 200 horses at the C Lazy U Ranch. 
We plan to take Remi back to his home ranch in September, when I head up there for my annual Ranch Riding Adventure clinic. We sure will miss having the little squirt around. He always makes us laugh. But it will be fun to see him repatriated to the herd and start the rest of his life as a trail horse for the guest ranch. I predict he will become a legendary trail horse at the C Lazy U and that he will be one of the most sought after horses there. I'll look forward to seeing him every time I come up there for a clinic—I just hope he remembers his humble beginnings.
You'd think that after a lifetime of riding and training horses and working with literally thousands of horses that I'd become jaded or come to take them for granted. In fact, the opposite has happened. With each year that goes by, with every decade spent with horses behind me, I become more amazed by these generous, intelligent and compelling animals—and their seemingly bottomless desire to do the bidding of humans. Horses make us better people.
Lately, I've been thinking a lot about a recent interview I heard with the author of Horse Crazy, Sarah Maslin Nir, a book I am now in the middle of reading. She said, "Over the millennia, we have bred horses to be useful to mankind and perfectly useless to themselves. They are not meant to exist outside us—we owe them a lot." There's a lot of depth to that statement. 
She also said, "Some people like to describe [horsemanship] as a partnership like two dancers. But that's not really the way it is because one partner is made to capitulate." I think this is also a meaningful statement, and a truth that is often overlooked by riders. I think this book is a delightful and provocative read, full of fun anecdotes and a lot of factual, historical, and science-based information about horses. The audio version is read by the author—that's always a favorite of mine. It may not be the perfect beach read, but it's a fantastic barn read!
I hope your summer involves some lazy and casual time with your own horses, and that you can take a moment to appreciate what incredible animals they are and how much they enrich our lives.