Goodnight Academy Member Dashboard
Helping Horses, One Human at a Time
Welcome to Your Member Dashboard
Full List of Goodnight Academy Courses
Units 1-6 for the Interactive Academy Membership.
Units 7-12 for the Interactive Academy Membership.
This is a complete course of self-study that will help you intellectualize your emotions, understand the effects of fear, know what you can do to counteract the emotion and how to develop a concrete plan to overcome your fear and gain confidence. The short course includes all the study resources you will need, including videos, audios and other exclusive study materials. You'll do exercises to improve your confidence in the saddle and on the ground; have assignments and worksheets to complete; and you'll receive a digital certificate upon completion.
Not signed up yet? Click here for more information.
Need technical assistance? No problem! Contact us anytime here or call us Monday through Friday at 719-530-0531, and my team will be happy to assist you.
Enjoy the Ride,
Julie
Access Your Streaming Training Videos, Audio Lessons & Digital Booklet Purchases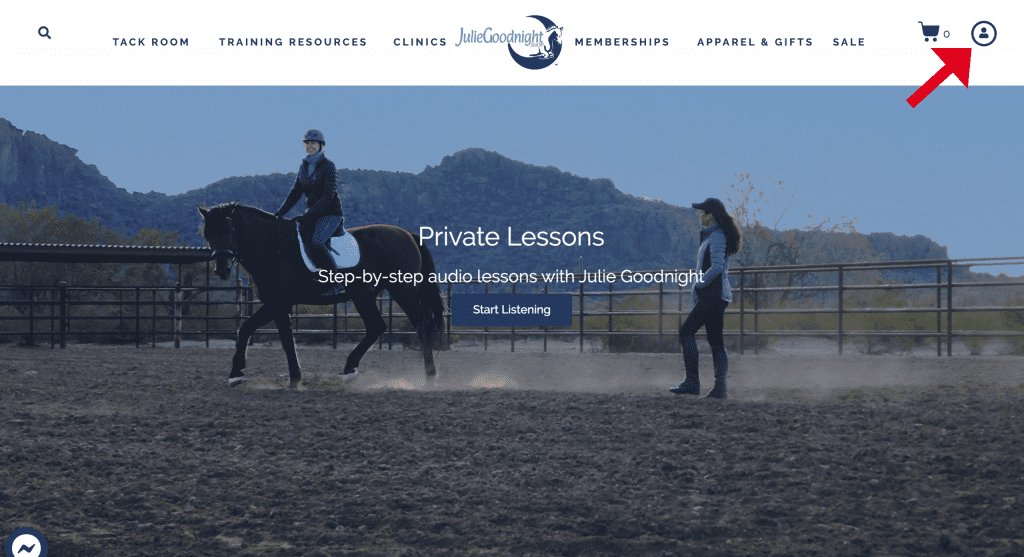 3.

Click on "My Training Videos & Audio Lessons"  to access your purchases.