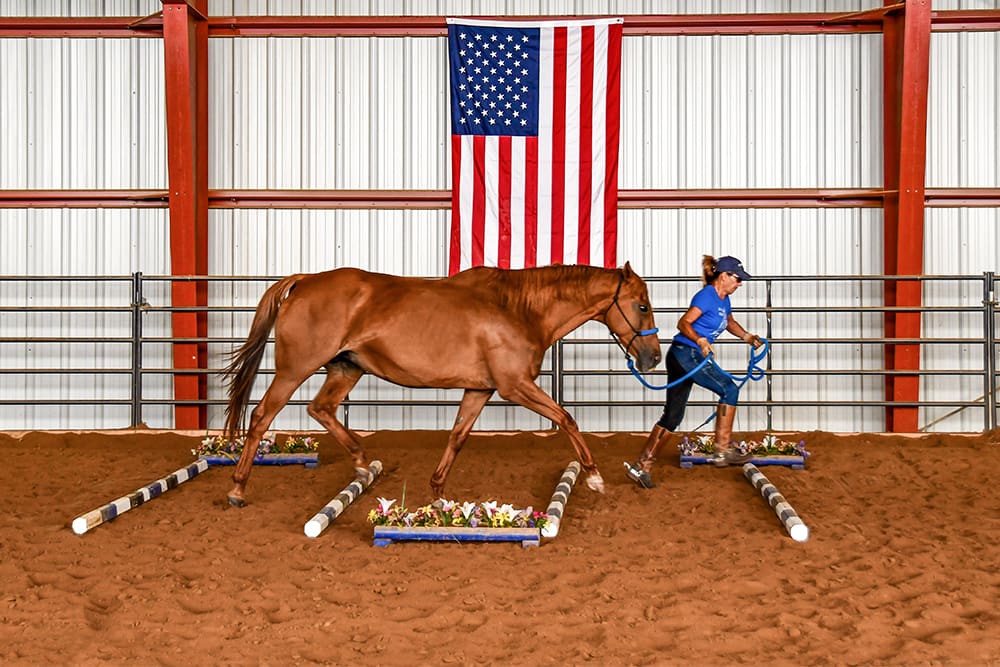 As the days shorten, I've been frantically trying to squeeze in all the activities I wanted to do this summer. The older I get, the shorter the summers are, and it's hard to get enough trail riding, camping, boating, fishing, mountain biking and paddling. But I have given it the college try this summer and I haven't given up yet!

My personal horses, Annie and Pepperoni, stay in regular daily training to keep them fit and tuned. Pepper is still young, so I look for new experiences for him all the time, even simple ones. Recently, my brother visited us after a motorcycle race and I was pleased to have an opportunity to "desensitize" him to a motorcycle approaching from in front and behind.
 
For Pepper, it was a big "ho-hum." That's what I would expect from him. He's very brave and unconcerned and seems to always understand what's going on around him. I'm sure he just figured it was a very loud bicycle. I am also not naïve enough to think he's fully desensitized to it since he was at home where he is most confident and emotionally stable. Out on an unfamiliar trail by himself could be a whole different reaction. But it's a good start!

Annie, my go-to finished horse, is middle-aged now, and although her training is excellent and she is a total blast to ride—with tack and without—she's starting to get more herd-bound. We have to diligently separate her from the geldings and make sure she focuses on the job at hand—not the other horses.
 
As long as we keep this part of her daily routine, she does well. If we left her in the herd for weeks on end, things would be much different. Middle-aged horses and mares tend to become more emotionally dependent on the herd as they age. If you missed my blog on this subject, check it out here.

Truth, the Thoroughbred mare I have in foster training, has come a long way in the last 4 months and is ready for adoption!
 
I am partnering with Nexus Equine to find the ideal home for her. She's a beautiful, brave, athletic, sweet mare, and is best suited for a family that wants a horse to enjoy non-riding activities like in-hand dressage or agility. Although I was riding Truth without issues, an xray of her back revealed an arthritis condition that is not conducive to riding. It's treatable, but in the best interest of Truth, we decided to find a non-riding home for her.


We continue to work with Truth daily for grooming, ground manners, and further training in non-riding activities. She's gone from a skinny, wormy-looking, potbellied, defensive horse, to a beautiful, sleek mare, greets you at the gate and who loves the attention she gets.
 
I look forward to finding her new family—and I am offering a private clinic to them to make sure everyone gets along well. If you're interested, please contact me.

In the 8 weeks of warmer weather left for me, I'm going to squeeze in as much riding and outdoor sports as I can. This year has been challenging in many ways, making the time I spend with my horses all the more meaningful.