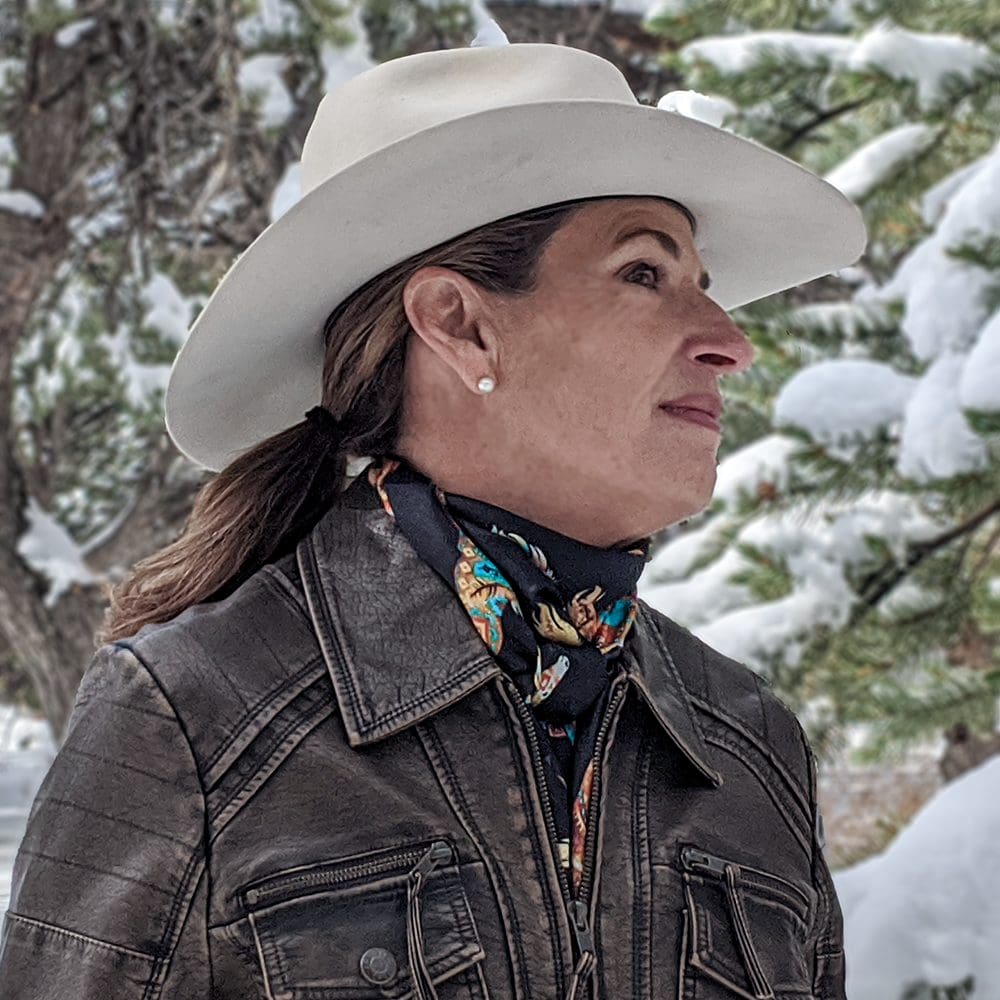 Dear friends,
As the year ends, I'm resisting looking back and wondering where the days/weeks/months went, and instead I'm focused ahead on what the new year will bring. I'm a big fan of New Year's resolutions, and I'm already busy crafting mine. I operate with multiple resolutions—personal betterment, professional goals, horsemanship, household, recreational—that way I am sure to accomplish some of them! Next month I'll share my New Year's resolutions with you—at least the ones I can share publicly.
2020 is shaping up to be a busy year for me, with horse expos in Tennessee, Pennsylvania, Oregon and Wisconsin. I'm also offering two new programs at the renowned C Lazy U Ranch in Colorado. In addition to the Women's Wholeness Retreat that I co-teach with Barbra Schulte, we are offering a ground-breaking program—The Couples Riding Retreat—which will be led by Barbra and her husband Tom, and my husband Rich and me. We're super excited about this vacation program for couples and already getting tremendous response.
Also new at C Lazy U for 2020, is the Horsemanship Immersion program– five days and four nights of immersive study of riding, horse behavior, conformation, training and health care, with a herd of 200 horses as our laboratory! The Ranch Riding Adventure program at C Lazy U is back by popular demand; I think there will be some openings in this program, for those of you who have patiently waited to get in. Your dream vacation awaits. www.juliegoodnight.com/clazyu Click Here – C Lazy U Ranch
I can't wait to go back to the magical country of Ireland in September 2020, for a fabulous riding vacation sponsored by Connemara Equestrian Escapes. We had so much fun there in 2018, that I just had to go back. We've had so much interest in the Ireland trips, and space is quite limited, so I wanted to go back to Ireland and offer this 'trip of a lifetime' to more of you. With an intimate group of eight riders, we get to know each other well. In addition to spending our days in lessons and hacking through the Irish countryside and seaside, we'll also enjoy cultural tours, dining at authentic Irish pubs and getting to know the local characters. Imagine yourself riding in Ireland! Click Here – Ride with Me in Ireland
For now, I plan to make the most of every day that's left of 2019. Rich and I are getting a jumpstart on the ski season and the snow conditions are epic! Since I won't have to get on an airplane in the immediate future, I'm able to get caught up on some back-burner projects and ride my own horses more. I'll spend a few days teaching up at Colorado State University Equine this month, helping with the Legends of Ranching colt-starting classes. It's always a treat for me to work with young horse professionals and help the colts progress through the program. And occasionally I become smitten with one of the Legends colts, and they end up in my barn after the Legends of Ranching Sale (Eddie and Pepperoni both came from this horse sale). Click Here – Legends of Ranch Riding
Don't forget to think about your horse as you shop for Christmas gifts! We've got a lot of great items that your horse will love and that will make your horse life easier. I hope you enjoy some quality time with friends, family and horses over the holidays and don't forget to think about your resolutions!
Enjoy the ride,
Julie