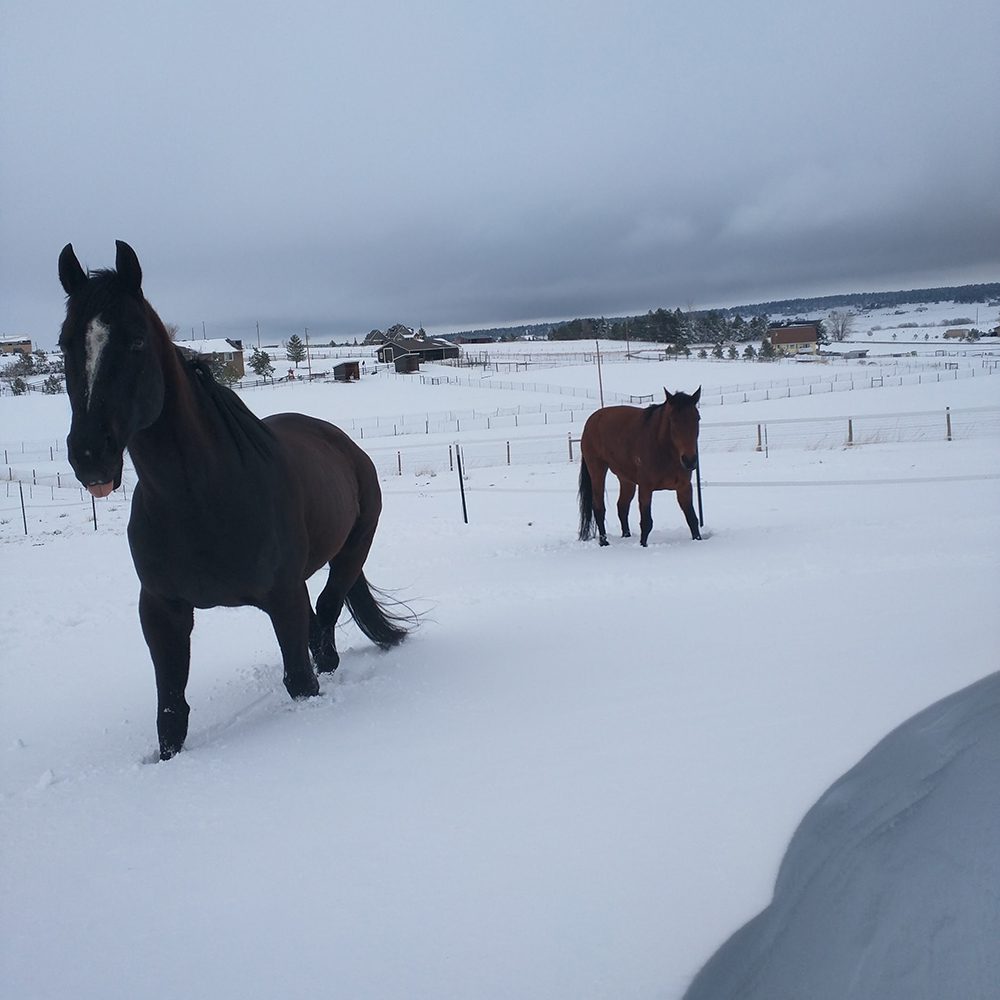 We are in the midst of a long, hard winter! Typical this time of year, one day might be sunny and warm with highs in the 40s or 50s, and the next is single digits, snowy and high winds. If it weren't for the indoor arena, not much riding would be happening at all. But even with a cozy indoor, when high temperatures are single digits or below, we do not work horses. One reason is that when the air is that cold and dry (often below 20% humidity), it can "scorch" the lungs of both horses and people if they start breathing too hard. Also, if the horses work up any kind of sweat when it's that cold, it's very difficult to get them to dry before nightfall. But even on the coldest days, it doesn't hurt to get the horses out, tie them up, give them a good grooming and do a little slow-paced ground work (see my blog this month on Winter Whoas).
Rich's new horse, Casper, is in-training as a mounted shooting horse and although gun-fire is not his favorite thing, he's accepting it just fine with a little positive reinforcement. He's now starting to associate the loud noise and strong smell with the good feelings he gets from eating a delectable treat. It will be a while before Rich can haul him anywhere, since our hauling truck was stolen in December. It was recovered a month later, but with a lot of cosmetic damage, so it remains in the shop. Don't get me started on this subject…
My horses, Dually, Annie and Pepperoni, are all doing great. Dually is in full retirement now and although he still enjoys a high status in the herd, it's gradually slipping with his age. Annie has become my go-to horse and is the only finished horse I have. She's an awesome little horse—uncomplicated, fun to ride, and just my size at 14.0 hands! Not much to "work" on with her—she's pretty finished but we ride her daily to maintain her fitness. My youngster, Pepperoni, is maturing nicely as a four-year-old. After his latest accident back in December (kicking out in his stall and entangling his foot high up on the stall grate, ultimately ripping the stall wall down), he seems to have become much more sensible during his moments of exuberance. Fortunately, he did not sustain any significant injury from that episode, but it did seem to have a positive effect on his maturity and sensibility.
Pepper is still relatively green for a horse of his age, partly by design and partly because of his propensity for injury. I intentionally bought a young horse because I enjoy training colts but also because I want to control how much pressure is put on him in his youth. Without a competition deadline looming, I've been able to ease up on his training and take breaks when needed for physical reasons. Currently, Pepper and I are working on collection at the canter, bending, shoulder-fore, haunches-in and leg yielding at the walk and trot. He's naturally a big stopper and not something we've worked on much, but we are starting to work on the slide. Same with pivots. In preparation for starting him on the cutting machine (a fake cow suspended from cables that you can control with a remote, so that it stops and turns like a cow), we are working on stop-back-turnaround. This all comes pretty easy to Pepper since he is line-bred to work cattle. It's in his DNA.
Speaking of DNA, I was excited to find out that Etalon Genetics www.etalondiagnostics.com was doing additional research on Annie's DNA. The domestication of horses is a fascinating subject to me and one I've been studying a lot lately (as well as the domestication of dogs). This additional information from Etalon includes an Ancestry report and a lot of factual information on breeds around the world. Just as with an ancestry report on humans, if you go back far enough, horses are all related! And just like with humans, my ancestry report might vary slightly from my sibling, in terms of which genes expressed themselves. I'm including Annie's ancestry report here, so you can see what it looks like. The initial DNA report includes color genetics, health markers and behavioral traits—very fascinating! This is a supplemental report.