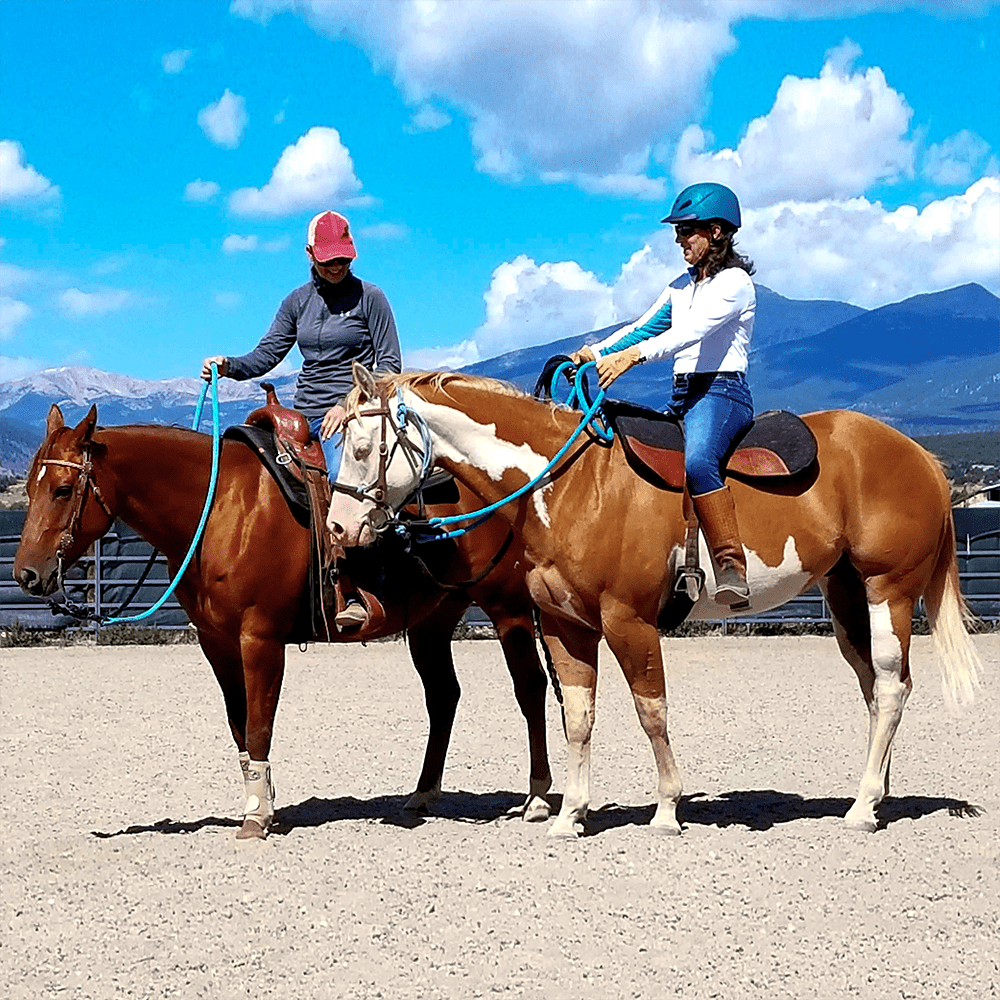 Here we are at the peak of riding season and I'm happy to report that our horses are all healthy and sound, even our foster horse, Doc Gunner. For the last 90 days, Gunner has more or less been the center of attention around here. He likes it that way. Gunner is a kind and gentle four year old whose magnetic personality stems from his deep need to belong. Gunner was born completely deaf, which makes him special in several ways—he's way more communicative than most horses, he seeks acceptance more, and he's far more interested in people than a lot of horses. While all horses learn fast, Gunner tries so hard to get along that it seems like he learns and absorbs faster too. Find out more about Gunner's story here.
I am learning more about the genetics of deafness in horses and soon we'll have a full genetic workup on Doc Gunner that will tell us a ton about his health, his pedigree, and even his behavior. We sent off genetic material (tail hairs) to Etalon Diagnostics. If we're lucky, we'll get some confirmation about his breeding, which may lead us to his beginnings. We've made tremendous progress in getting him healthy and started under-saddle; soon we'll begin the search for his perfect home. To find out more about how you can help horses in transition and horses at-risk in your area, visit MyRightHorse.org.  
We've been live-posting with Gunner at least once a week, and a lot of people wonder why I don't adopt Gunner. First, my job as a foster parent (or in this case, foster-trainer) is to help as many horses as I can, not acquire more horses for myself. Secondly, I have two fabulous riding horses already, Annie (my pretty little diva) and Pepperoni (my young, athletic training project). That's about one and half more horses than I have time to ride. Thankfully, I have Melissa to help me keep the horses going strong.
Annie is a mature AQHA mare, finished under-saddle and a solid working partner for me, in all the media production that we do on a weekly basis around here. It's been my ambition to train her into being a gelding, and we are getting closer all the time. Pepper is super fun to train; he learns lightning-quick and is always game for an adventure. With Gunner getting so much attention lately, I haven't ridden Pepper as much as I'd like, but I'm happy with his training level. His classical training foundation is solid and strong. For the most part, he is 100% obedient to my aids, when I am riding mindfully. Of course he's more than happy to let me know when I make a mistake—and that's when his red-headed temper kicks in. I love riding this horse; he keeps me honest.
We've been fortunate to have a great summer with our horses so far and I've got fall riding retreats coming up soon at the C Lazy U Guest Ranch. I'm looking forward to getting back on the road with my horses and helping riders develop their skill set. Here in the Rocky Mountain west, we're having a terrible drought and wildfires are raging everywhere. It's a stressful time for everyone, especially those of us that might have to evacuate with our horses. God bless the firefighters and let's all pray for rain. Hay already is at a premium, due to low yields, so grab up what you can.
These are challenging times, to say the least. Thankfully, we have horses to keep us grounded and strong. And remember, riding is a great sport for social distancing!
Enjoy the ride,