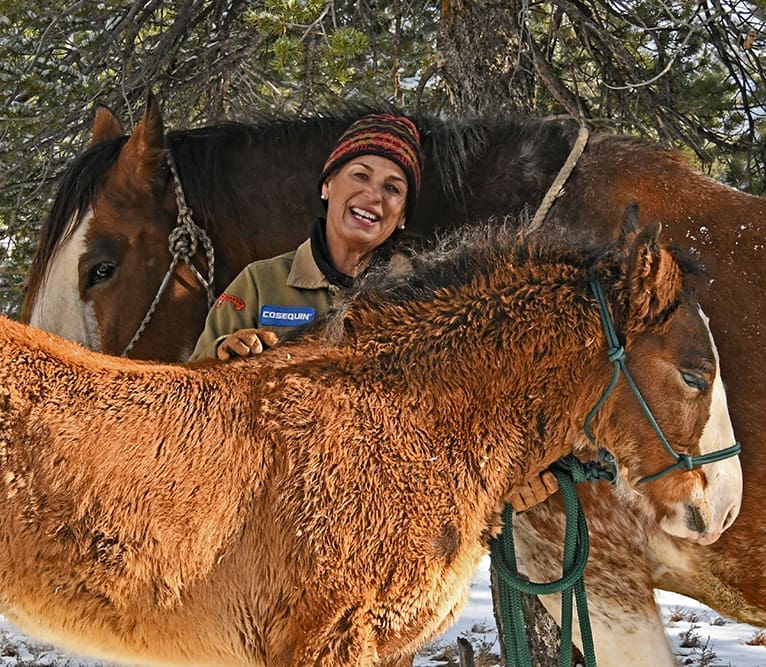 Here in the Colorado mountains, we love snow! The more, the better. And it looks like a white Christmas is in the forecast. Our valley is the headwaters of the Arkansas River; our snowmelt sends drinking water to millions downstream. Snow fall impacts our local economy in many ways. We rely on snow and snow melt for our two biggest tourist draws—skiing and whitewater rafting. We rely on snow for irrigation water to grow hay and crops. But on the downside, super-cold temps, snow and ice make horse care a challenge! Without an indoor arena, we might go months without riding. In the midst of our winter wonderland, it's easy to imagine that it's full-on winter everywhere, although I know many of you are enjoying perfect riding weather this time of year. What is your most challenging season for horse care?
Our horses are all fat and happy. With another year of growth and maturity, my youngest horse, Pepperoni, is leaving behind his childish ways and adopting more adult attitudes. It's an interesting and always welcomed stage, when a "colt" becomes a "horse." It's not a clear line or a definitive moment, but a gradual feeling that comes over you. By the latter part of this year, I would say Pepper crossed that line. These days, he's all business when we ride, with less playfulness and more of a let's-get-to-it attitude. If I go a week or two without riding him, he works the same as if I had ridden yesterday—gone are the exuberant, fresh-horse rides. Pepper is a fun horse with a happy outlook, a courageous and curious attitude, and an incredible sense of awareness. He's never surprised or startled, because he always saw it coming. He's not hyper-alert; but he is very consciously present at all times. Although he is a red-head, with a bit of a temper if pushed, and he does not tolerate the mistakes of the rider well. But with a generous spirit, he's always happy to point out my mistakes and he keeps me on my toes, so I like that.
My sweet little mare, Annie, is my most under-appreciated horse. I don't ride her as often as Pepper, but when I do, I'm reminded what a great ride she is! This time of year, we always go through the mental gymnastics to recall what age our horses will turn in January. Each year represents a different stage of life for the horse, which is why we don't use the actual birthdate of horses to describe their age and instead go by the year. On January 1st, horses all celebrate a birthday and Annie will be 14! My how times flies. She's a beautiful little mare, well-trained and sporty, like driving a Porsche. Lately I've been thinking about breeding her. My goal would be to have a colt just her size (14.0) and athleticism, but with my luck, I'd end up with a 15 hand mare. That's the problem with breeding—it's a bit of a crap shoot.
Our temporary residents, The Clyde Family, Joy and Remington, are enjoying their stay on our ranch, while their home ranch, the C Lazy U, rebuilds their horse barn after the destructive wildfire season. Joy is a purebred Clydesdale mare that was acquired by C Lazy U in March 2020 (a month that goes down in infamy), as an addition to their remuda of 200 riding horses. She rides and drives and is a sweet and gentle giant. After a summer of being ridden by the wranglers on the C Lazy U, in September it became obvious that the acquisition of Joy was a two-fer. Remington, apparently also a Clyde, was born on October 1st, unexpected and about six months later than a foal is normally born. On October 14th, the East Troublesome fire started and in a matter of days, fueled by 80-100 mph winds, the fire grew to be Colorado's second largest and second most destructive wildfire ever. Joy and Remi were evacuated to a safe facility, then a week later, as the fires grew, they needed to be evacuated again. On October 29th, Joy and Remington were evacuated a third time when I brought them to my ranch. Poor Remi had four homes in four weeks of life! I'm happy to report that Joy and Remi have settled in well and they seem quite happy. It's fun to have a baby to play with, but he is getting big fast! He's calm and cooperative like his mother and he loves attention! Sometimes I think if I stood in front of his pen long enough, I would actually see him grow. He's two and a half months old now, starting to eat hay and grain, and learning his manners quite well. Once the hardest part of winter is behind us, the Clydesdales will be repatriated back to the C Lazy U, and in four or five years, Remi will become an awesome addition to the remuda.
As this bizarro year comes to a close, I find myself reflecting less on the months behind me and more on the year in front of me. I know there are still some dark days of winter ahead of us, but the light is coming. I so look forward to the Spring and to traveling again, so I can come to your area and work with you and your horse, in person! Until then, we will continue to connect in the digital space, as we work together on improving horsemanship and becoming the rider and the leader our horses deserve. In the meantime, be safe, be well and celebrate the end of this long, hard year!
Enjoy the ride,
JG