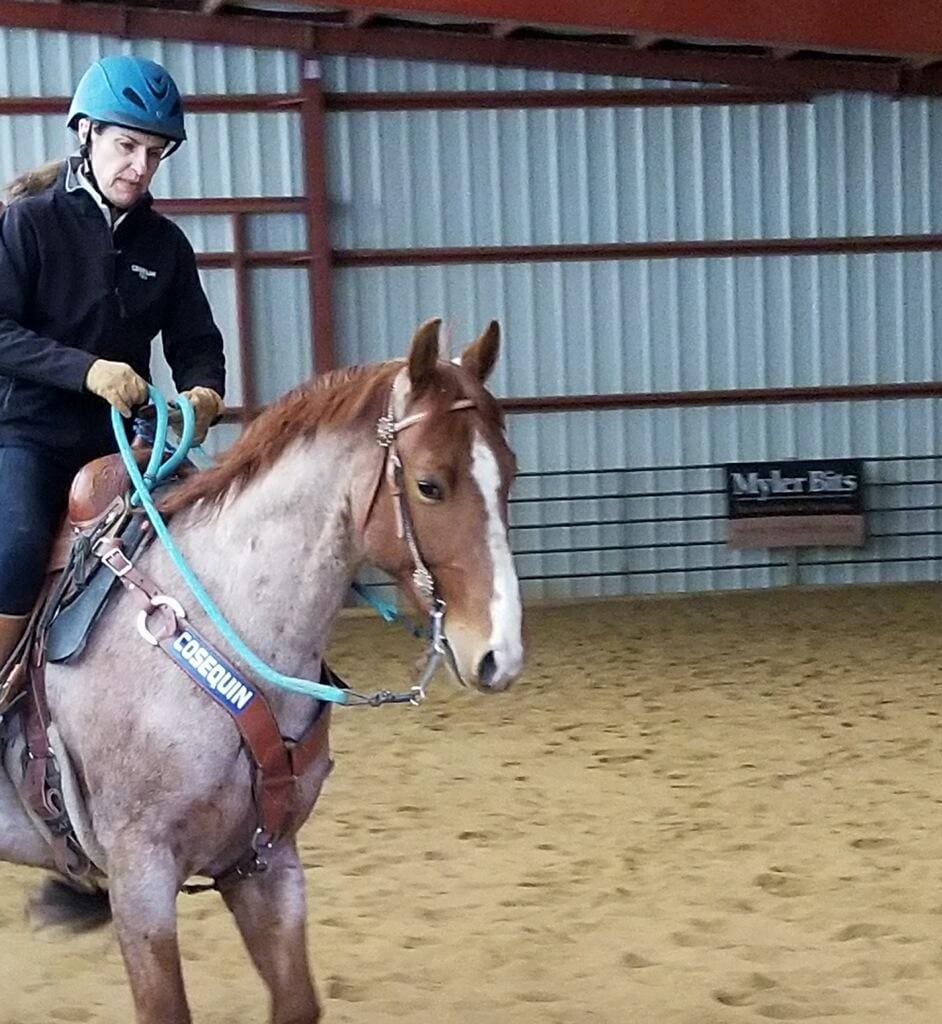 Had I written this report a week ago, when I was supposed to, it would have sounded much different. Then, I would've been whining about being on the road too much and how little ride-time I had with my own horses. Now, I've got all the time in the world because my business trips have been cancelled through April. I've got plenty of time at home to ride my horses now and I'm making the most of it. However, I will miss connecting with you, my loyal friends and followers, and I am sad about all the vendors and expo producers whose hard work preparing for horse expos burned up in a flash.
Fortunately, Goodnight Horsemanship is an internet-based business, located in a remote and rural area and my crew and I are still hard at work, in a seemingly normal way. Twyla and Diana are in our (spacious) office every day (taking all precautions, of course), to keep up with orders and give technical support (and emotional support) to our members and subscribers. Melissa is taking care of the horses as usual and we are riding and training every day (she's also videotaping, editing and modeling too). She's working more from home now, in an attempt to keep her son busy while he's home from school. Megan, who keeps our intricate websites and social media platforms functioning (among many other things), works remotely from home normally anyway. We are all working hard to make the most of this slowdown by producing even more video/audio content for our subscribers. We are working on it every day and plan to release brand new content several times a week!
Our streaming services and online horsemanship library have definitely seen an uptick in activity this week, a sign of all the people who cannot go to work but still have a hankering for horses. We are grateful to be able to share this searchable educational content with you and to help you reach your horsemanship goals. I've also seen an increase in completed assignments and messages from my Interactive members (it's an online curriculum and coaching program). This tells me that many of you, like me, are stuck at home for a while and trying to keep moving in a positive direction. Let's keep these connections going!
I'm eager to get back on the road again soon. As much as I enjoy this unplanned time at home, I love traveling to clinics and expos and I already miss it. The Women's Riding & Wholeness Retreat, at the C Lazy U Ranch, that I co-teach with Barbra Schulte, is going on as planned in May and I cannot wait! We are optimistic that our government and the greatest scientists in the world will continue to be proactive and will get this viral outbreak under control quickly, and that restrictions will be lessening soon. Obviously, it's a fluid situation and it can change rapidly, but we are optimistic and eager to get back to normal.
With all the event cancellations, I'll have lots of time available once things kick back into gear. I'd love to schedule more private clinics around the country, especially in the areas where horse expos were cancelled. If you're interesting in partnering with us to host a horsemanship clinic, please call my office.
My horses are all healthy, fat and happy. I'm getting more ride time these days and I've been sharing that on FaceBook and YouTube. Many of you wonder what I do with my own horses, so now's your chance to get an insider's look at my farm, my personal horses and what training challenges I face. You'll hear from me again in a couple weeks and I'm confidant my newsletter will have a more positive tone by then. In the meantime, let's all stay connected online, through live posts and chat rooms. Keep your comments coming and let us know you're still there!
Take care and be smart,
Julie