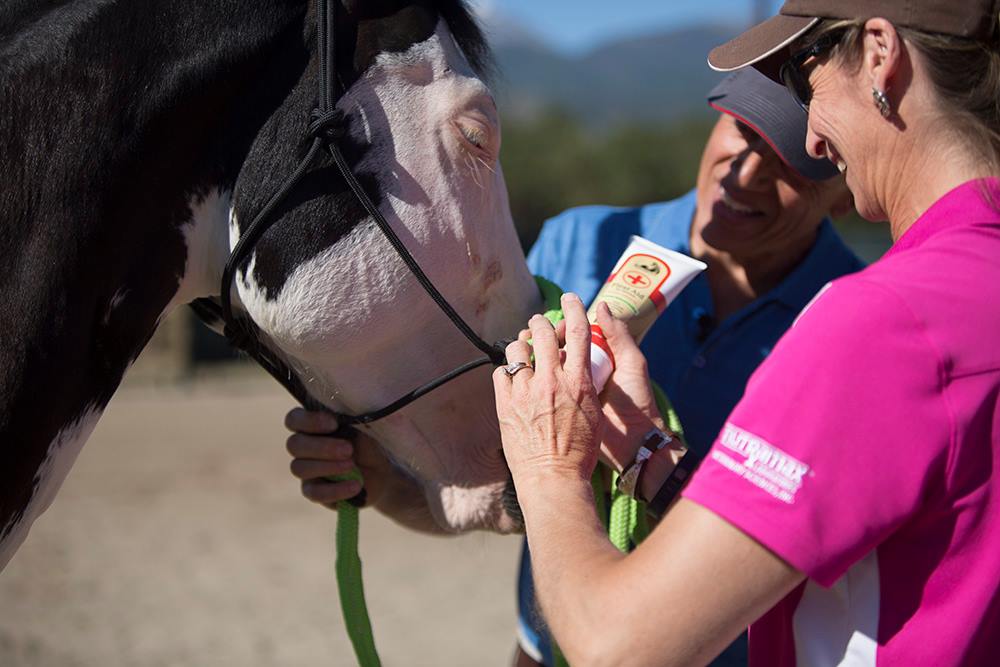 I've been taking care of horses for half a century and during that time I've seen hundreds of injured horses, from mild scratches to cuts that need stitches to deep-tissue lacerations, punctures and impalements. As most experienced horse owners know, some horses could get hurt even if they were locked in a padded stall.
Over the decades I've gotten pretty good at basic first aid for horses—knowing what injuries I can handle myself, when I need to call the vet and whether or not it is truly an emergency. I've nursed horses for months on end through the most horrific, seemingly career-ending injuries, and seen the horse come back to full health with barely a scar. Over the decades I've learned what supplies, medications and tools to keep on-hand, and how to deal with the typical injuries that horses get.
Recently, on one of the first blustery winter days, I saw the horses running around like their tails were on fire, across the fields and the through the thicket of trees. Later, as I brought the horses in for the evening, I gave each of the horses a good visual once-over, as we do each morning and evening, looking for any signs of injury or illness. It was then that I noticed the blood on Eddie's muzzle. Once the horses were secured in their stalls for the night, I grabbed a flashlight and clean rag and headed to his stall to investigate.
With my rag damp, I wiped away the dried blood from his muzzle and discovered no injury there. Not surprising, since horses often rub or scratch wounds with their muzzles. Running the flashlight beam up and down his legs, it didn't take me long to find the cut, up high on his right forearm. It was a jagged, one inch laceration with a puncture wound that looked like it could be deep and/or have some debris in there. No doubt, he ran into the stub of a broken branch when running pell-mell through the trees earlier.
The injury itself will often give evidence as to the cause or "mechanism of injury." In this case, the jagged puncture and location high on his forearm were common clues to that type of injury, caused by tree branch. Looking at a wound—from minor to serious—may help you discern the cause, and hopefully eliminate it. The mechanism of injury may also be a clue as to how serious it is and/or how it should be treated. A wire cut or metal cut may have cleaner edges and a deeper laceration; a puncture wound might only have a small opening but swelling below could be a clue to a deeper problem.
Like many experienced horse owners, at my ranch we treat most minor injuries without calling the vet. But everyone that works for me knows, when in doubt, call the vet. I'd way rather have a small vet bill than a big problem later on. When I am evaluating the wound, to see if I need to call my vet, my main concerns are suturing, the potential for infection, joint damage and/or lameness. If tranquilizing is required to clean, suture, flush or drain the wound, or the wound is near a joint or involves lameness, I call the vet.
If infection is a concern and I think I might need antibiotics, I call the vet. I prefer to use oral antibiotics, even though they are more expensive, in order to reduce the number of injections the horse may need and I get that from my vet. If the wound is fresh and has clean edges and it is located in a place where stitches would hold and/or where it could be wrapped, suturing may be useful, so I call the vet.
Fortunately, on this day, it was an injury I could easily handle myself. Over the past 5 decades, I have had many opportunities to treat puncture wounds on horses. I suppose their flight response has something to do with the frequency of puncture wounds seen in horses. Equally fortunate was the fact that my horse Eddie was very well-mannered, trained to stand still when asked and very easy to handle from the ground. Tranquilizers would not be needed—just someone that would hold and distract him while I cleaned and flushed the wound.
I headed to the barn to get the supplies I needed—betadine solution, a handful of gauze sponges for scrubbing, scarlet oil, a small pail of warm water, some clean dry rags, a towel, the mastitis needle and irrigation syringe and the cordless clippers. While my assistant haltered Eddie, I laid out my supplies on the clean towel and got them ready, in the order in which I would need them.
With any wound that has fully penetrated the skin, I like to clip away the hair from the area to make it easier to clean and to prevent the hair from being matted in the wound. I use a mild diluted betadine solution (about the color of iced tea) for cleaning wounds initially, whether it is a puncture or open laceration, but the first order of business is to scrub away any scabbing, debris or matted hair that may be covering the wound and expose the edges fully.
With any kind of puncture, there is always the possibility of foreign matter inside the wound which can cause infection and abscessing. The critical issues for treating puncture wounds are to flush the wound daily, allow it to drain for as long as needed, and keep the outside of the wound open to allow it to heal from the inside out. After scrubbing the outside of the wound and probing and flushing the inside with the mastitis needle (a blunt ended irrigating needle), I then squirt a little scarlet oil deep into the wound to keep it draining and to help prevent infection. Every day, until it is healed, I will clean away scabbing and flush the puncture again and monitor the amount of drainage. When the drainage stops, the wound is usually ready to heal and close.
Whether or not to bandage a wound can be an easy decision—there are many places on a horse that cannot effectively be bandaged. I prefer to keep puncture wounds un-bandaged to promote drainage as it heals. Indeed, in many instances, wounds will heal better when exposed to air and sunlight but there are many extenuating circumstances with horses—how clean the wound will stay, how easily it will reopen, whether or not there sutures to protect, can the scar be minimized, will insects or foreign matter be a problem, will the bandage stay put? I like to err on the side of keeping a non-puncture wound clean and protected, so I will bandage the wound when I can.
Bandaging wounds on horses requires some skill and know-how, since mostly we are talking about legs– keeping it on without cutting off circulation and causing additional damage can be a challenge. Changing the bandage, cleaning and redressing the wound will have to be done on a regular schedule, again, by someone that knows what they are doing. I always keep plenty of bandaging supplies on hand—vet wrap, rolled gauze, trauma pads, cotton batting (necessary for cushioning to allow for circulation when wrapping legs), polo wraps and duct tape. I like to keep a package of disposal newborn baby diapers in my first aid kit, which can come in handy for wound dressing and saddle sores. A large box of disposable medical gloves, sharp bandage scissors and good clippers are must-haves.
When it comes to ointments and medications for treating wounds, I like to keep it simple and all-natural when possible, so I use a lot of Redmond First aid clay as a topical ointment when I need protection from the elements in a minor wound that will go un-bandaged. It will act as a drying agent and will form a protective layer over the wound to keep out insects and debris. For un-sutured wounds that will be bandaged and do not need to drain, I will pack the wound in the clay and it will stay moist because of the bandage and help the wound heal. I also use the clay mixed as a mud poultice for bruises and swelling on the legs and for packing feet.
Sometimes a medicated ointment is needed to prevent infection in a wound—let your vet decide what is needed, but be careful what you use, because some of the most common medicated ointments traditionally used on horses have carcinogens in them (check the label). Make sure you always use gloves when treating wounds of any kind, to protect yourself from infection and from harsh chemicals.
Keeping the "dry" supplies on-hand and plentiful is a good investment and a no-brainer—they will not expire and will be there when and if you need them, if stored well. I prefer to avoid having a lot of medications sitting around that get old and expire—I will get them from my vet when needed. Redmond First Aid ointment and pure coconut oil get the most use around my barn on a daily basis, but we also keep betadine, scarlet oil and blue lotion on hand. A smaller first aid kit will all the basics is kept in an airtight container in my horse trailer for when we are on the road.
Of course, my hope is that my first aid supplies will never be needed. But after a lifetime with horses, I know that sooner or later, one of them is going to get in a wreck. It pays to be prepared!