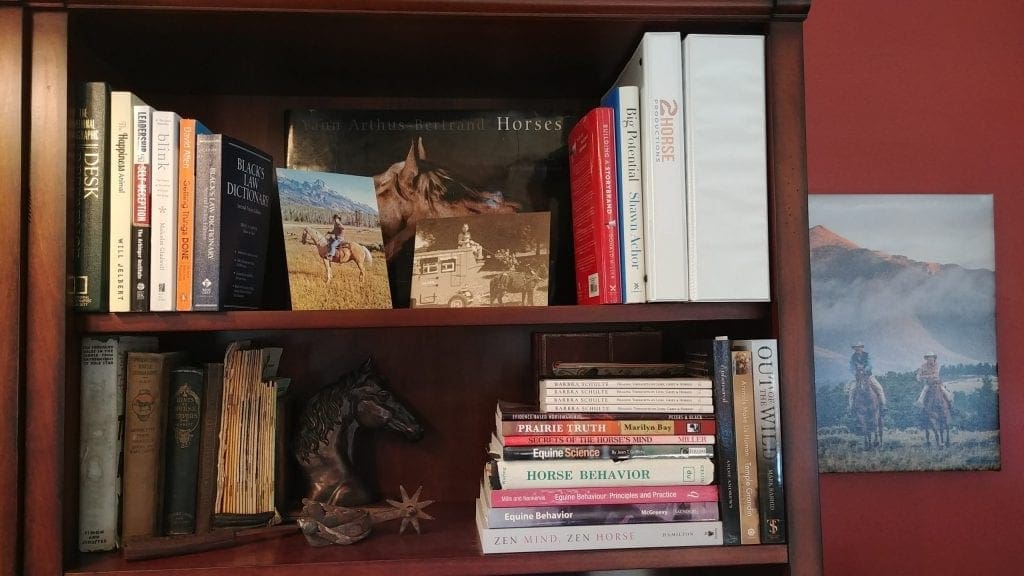 As a voracious reader, I often reference books when I'm teaching or public speaking. Typically, that leads to questions from other voracious readers about what horse books I recommend. With the start of a new decade, I thought it would be a good time to share my favorite books on horses and animals. While I'm at it, I may as well share all my favorite books with you.
Reading is one of my favorite pastimes. In fact, my fantasy vacation (which I've yet to take) always involves endless reading on a beach or a boat. I read myself to sleep every single night, but I'm lucky to get through one paragraph. To sit down and read a book, for the sheer pleasure of reading, is the ultimate luxury.
I read for a lot of different reasons: education, edification, entertainment, and personal betterment (call it self-help, if you'd like). I try to alternate between fiction and nonfiction, but nothing is more entertaining to me than curling up with a fast-paced spy novel.
For more than a decade, I've been reading almost exclusively on my Kindle. It travels with me everywhere I go, and it literally sleeps in the bed with me. Occasionally I read hard copies—often they are books about horses or obscure titles that are not available in digital format.
Although I prefer the written word over listening to audio books, lately I've been using the "Switch to Listening" feature on my Kindle, so I can consume more books—listening in the car, the hot tub or while doing chores. I've learned not to listen to books at night in bed, because I awaken to a finished book that I've slept through.
If I really fall in love with a book, I often buy the hard copy to add it to my collection and so I have something to loan to others. I prize my library of real books. They surround my desk—most of them titles about horses—and I enjoy perusing the titles and thumbing through them. When it comes to books, I suppose I'm moving into the 21st century, slowly but surely, since the titles in my personal Kindle Library now outnumber those on my book shelves.
Below, I'd like to share with you my favorite books of the year and of the decade! In case you are only interested in one type of reading, I'll divide them into the categories of horses, nonfiction, fiction and self-help.
My Favorite Books of 2019
About Horses
Whole Heart, Whole Horse, by Mark Rashid
Mark Rashid is one of my all-time favorite authors; he's also a friend and colleague. Not only a talented and engaging author, Mark is an exceptional horseman and a stellar person. In this book, he emphasizes the importance of not placing judgment on a horse's behavior. As with all of Mark's books, this one will change your perspective on horses and people.
Nonfiction
The Invaders: How Humans and Their Dogs Drove Neanderthals to Extinction, by Pat Shipman
This may be my number one read of 2019. Lately, I've been very researching the domestication of dogs and horses and their roles in human society. This book offers a scientific look at the evolution of homo-sapiens and how they collaborated with wolves to become the apex predator. The author lays out a compelling case for humans as the most invasive species on earth and how the domestication of wolves may have played a role in the extinction of many species, including Neanderthals.
Fiction
Where the Crawdads Sing, by Delia Owens
This is a beautiful work of fiction set in coastal North Carolina. The story is full of the wonders of the coastal environment; it's a beautiful love story and a compelling murder mystery. Kya, the main character, is abandoned as a child and forced to survive on her own in the swamp. With a few characters to guide her, she not only survives, but goes on to become self-educated and highly successful. But will she survive the cruelty of the people in her own community?
Self-Help
Quiet: The Power of Introverts in a World that Can't Stop Talking, by Susan Cain
As a confirmed introvert myself, this book spoke volumes to me, in terms of the value of listening and the importance of quiet and solitude. According to the author, at least a third of humans all over the world are introverts; they are the ones that are listening, not talking. She talks about the rise of the "Extrovert Ideal" in the 20th century and how deeply it has permeated our culture.
My Favorite Books of the Decade
Online, I can scan through hundreds of digital books that I've read over the past ten years. The best books stand out in my mind like I read them yesterday; others evoke vague memories of pleasant reading, while some are completely forgettable. Here, I will list my most favorite books that I have read or re-read in the past 10 years on horses, works of nonfiction, novels, and personal betterment.
Books on Horses and Animal Behavior
Evidenced-Based Horsemanship, by Dr. Stephen Peters & Martin Black. This is a short book and an easy read, but it will teach you a lot about how horses think (and don't think). It's about the neurology, physiology and behavior of horses and how that relates to the ways we train them.
Equine Behaviour: Principles & Practice, by Daniel Mills and Kathryn Nankervis. This is my favorite book on horse behavior because it's science-based, with textbook content, but it's relatively easy to read. The author's British wit made me chuckle throughout this comprehensive look at horses.
Equine Behavior: A Guide for Veterinarians and Equine Scientists, by Paul McGreevy. Widely regarded as the definitive work and the "Bible" of horse behavior, you'll need a highlighter, a dictionary and plenty of time to make it through this book. Caveat: It's very expensive and only for the obsessed student of horse behavior.
Zen Mind, Zen Horse: The Science and Spirituality of Working with Horses, by Allan J. Hamilton, MD. In many ways, the simplicity of this book on horse behavior is in stark contrast to the work above. Written more for the horse owner, it combines a scientific look at behavior, both horse and human, with simple and effective training techniques that promote harmony in both.
Understanding the Ancient Secrets of the Horse's Mind, by Dr. Robert Miller. I love this book—it's a quick read, chock full of science-based behavior, and it offers the reader a much deeper understanding of the horse's perspective and it will give you a greater ability to think like a horse.
Animals in Translation, by Temple Grandin and Catherine Johnson. This book is about the behavior in many different species, including humans, and brings insight that only Dr. Grandin can give. She's a renowned animal behaviorist at Colorado State University, primarily known for her work in the cattle industry (and the HBO movie about her life), but she has, and is currently, researching horse behavior as well.
Equine Science: Basic Knowledge for Horse People of All Ages, by Jean T. Griffiths. This is a comprehensive reference book for horse owners, with everything you need in one place: evolution, behavior, coat colors, senses, gaits, genetics, nutrition, health, disease and anatomy. This book should be required reading for all horse owners.
Nonfiction
Educated: A Memoir, by Tara Westover. For me, this book ranks as one of the best reads of the decade. It is a fascinating autobiography that reads like a novel. It's a story of cruelty, survival and amazing accomplishment.
Becoming, by Michelle Obama. An intriguing and inspirational memoir about the former First Lady and the path that led her to the White House.
Red Notice: A True Story of High Finance, Murder and One Man's Fight for Justice, by Bill Browder. Honestly, I thought it was a novel when I first started reading it; but sadly, it's true and factual. This books sheds light on the entrenched corruption and murder in Putin's regime.
Sapiens: A Brief History of Humankind, by Yuval Noah Harari. This renowned historian takes us through the evolution of modern humans, starting about 70 thousand years ago with the appearance of modern cognition, through the cultures and conquests of history, to the state of affairs today.
Hillbilly Elegy: A Memoir of a Family and Culture in Crisis, by J.D. Vance. A true story about a culture in crisis—the white working class—and the loss of the "American Dream."
American Sniper: The Autobiography of the Most Lethal Sniper in U.S. Military History, by Chris Kyle. This is the deeply personal story of a young soldier from Texas, a former cowboy and bronc rider, who went on to become an Army sniper. You may recall the tragic real-life ending of this story, which occurred after the book was published, when the author was tragically murdered by a fellow Veteran.
An Astronaut's Guide to Life on Earth: What Going to Space Taught Me About Ingenuity, Determination, and Being Prepared for Anything, by Chris Hadfield. This is a light-hearted, but fascinating read on what it takes to become an astronaut and the harrowing stories of real-life space travel. It is a motivating tale of determination, perseverance and ingenuity.
Unbroken: A World War II Story of Survival, Resilience and Redemption, by Laura Hillenbrand. From the author of Seabiscuit, one of my 'books of a decade' from the 2010s (also a must read), comes this true-life story that proves life is stranger (and more fascinating) than fiction.
Fiction
An American Marriage, by Tayari Jones. A moving love story steeped in southern culture and institutionalized racism. It's a compelling story that opens your eyes to some ugly truths.
A Man Called Ove, by Fredrik Backman. This is a charming and heart-warming story about the "neighbor from hell," a grumpy old curmudgeon, and how the actions of others can have meaningful impact.
Small Great Things, by Jodi Picoult. A moving and gut-wrenching look at racism, privilege, prejudice and justice in American society.
Spilled Milk, by K.L. Randis. Based on a true story, this book offers a disturbing look at child abuse and one girl's pursuit of safety and justice.
The Girl on the Train, by Paula Hawkins. A psychological thriller with many twists and turns; a serious page-turner.
Gone Girl, by Gillian Flynn. A riveting and unique plot about a marriage gone bad. I love plots that are unpredictable and this one keeps you guessing.
Hunger Games Trilogy, by Suzanne Collins. Okay, I admit it. I often read young-adult fiction. This trilogy has everything I love—it's post-apocalyptic, dystopian, sci-fi, and futuristic all in one story. And, it has a strong female heroine.
The Art of Racing in the Rain, by Garth Stein. One of my favorite books of all time, this novel is narrated from the voice of its main character—a dog. On top of the unique point of view, the plot is as intriguing as the setting—the life of a race car driver. BTW, it's a major motion picture now and the movie is almost as good as the book. Bonus book: Ephemeral, by Andie Andrews, is a charming novel written from the first-person voice of a horse named Sonny, and how he deals with his novice rider.
Personal Betterment
Leadership and Self-Deception: Getting Out of the Box, by The Arbinger Institute. I first read this book to increase my business acumen but soon realized it also has a significant impact on more intimate relationships too. I've gifted this book to quit a few people; I've read it several times and reviewing it now, makes me want to read it again.
Blink: The Power of Thinking Without Thinking, by Malcolm Gladwell. A fascinating look at the neuroscience and psychology behind making good decisions and snap judgments. Filled with anecdotes and scientific research, it is both fascinating and entertaining.
The Happiness Animal, by Will Jelbert. This book explains the painful truth… that happiness comes from within. It helps us become accountable for our own happiness and to train our minds to think positively.
Getting Things Done: The Art of Stress-Free Productivity, by David Allen. I'm an organization freak, so I loved this helpful book on organizing your business and personal life. I read this almost 10 years ago and I still use these techniques daily.
Mulling over and describing these books to you is like reliving the joy of reading them all over again. I love that about a good book and it's the reason I like to keep hard copies around. I like to highlight meaningful passages or beautifully crafted prose, to make it easy to enjoy again later.
Maybe you've found some books in my list that you've read already—I hope you loved them too. Perhaps there are a few titles that interest you and maybe you'll find some new gems. Be sure to comment below if you've read, or want to read, any of these books or if you want to share your favorite books of the decade with me!
Enjoy the read,