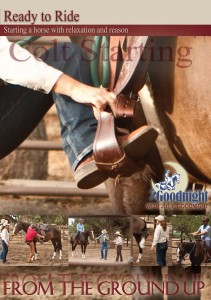 I like to talk about starting a young horse under saddle—what we used to refer to, crassly, as "breaking" a horse. It is a good sign for the state-of-the-horse-union that this term has fallen out of favor. However, keep in mind that there is nothing better than a very "broke" horse.
No more snubbing posts, no more wild bronc rides (hopefully), no more drama in the colt-starting process that leaves some horses scarred for life. These days, after decades of breeding horses for temperament and performance, horses have gotten pretty tractable and training techniques have changed drastically. A well-bred, well-tempered horse can be so easy to start under saddle that sometimes it seems as if it was already trained. Sometimes; but not always.
When a young horse is well-prepared and a solid training foundation is in place, the first few rides should be uneventful. Still, there are many steps involved in saddling, mounting and riding a young horse for the first time and a mistake at this crucial stage in its training can cause problems throughout its career. And more importantly, there are many mistakes that can be easily avoided, if you know what you're doing.
For years, I've had requests for a colt-starting DVD, but it's taken me a while to get it done (please pardon the use of the slang term "colt" which, in this case, refers to a young untrained horse, not gender). For one thing, that much info won't fit on one DVD, so first I had to make three full-length DVDs about all the foundational work that comes before saddling, mounting and riding. In fact, the colt-starting DVD turns out to be the fourth in my "From the Ground Up" series. Round pen work, lead line work and training the horse to respond properly to bit pressure comes before saddling up and riding.
Then we had to find the right horse, the right time and the right place to make the video. Turns out we found the perfect young warm-blood to feature in the colt-starting video. She was a three year old Hanoverian filly (now four) named Picabo YC and she is a well-bred, well-tempered youngster whose foundational training had been done using my methods and by a trainer who used to apprentice with me. The right time and place was my ranch, in the heart of the Rockies, in the middle of the summer. Perfect on all accounts!
Picabo YC was a very cooperative subject for the video—she was very tractable and compliant, with just enough acting-out to show that she really hadn't been ridden before. At first, the training went so smoothly that I was concerned that it might look like a set-up. But as luck would have it, she did protest being mounted just enough to add a little excitement to the video. The sessions went so well that we decided to use some of the footage for a four-part series on colt-starting on Horse Master, which will air on RFD-TV in February/March and again in April/May.
The TV series and the full-length training video, called "Ready to Ride", is divided into four parts: first saddling; mounting/dismounting; getting the horse used to the weight and balance of the rider; and teaching the horse to accept cues from the rider (the video has about twice the content as the TV series). We taped one section each day, four days in a row. Within each section, we broke it down into even smaller steps, discussing all the little things that can go wrong at each turn, how your horse might respond, how to be extra-cautious in the critical steps and when to move onto the next step.
Picabo YC moved through all four stages outlined in the video with relative ease. She fussed and kicked a little over mounting, but with patience, repetition and releasing the pressure at the right time, she got over it quickly and put on her big girl pants. I know she will turn out to be an awesome sport horse and I know her training has progressed well since we taped the video last summer. I look forward to sharing her individual progress with viewers as well as all the information on colt-staring within the video.
The advantages of sending your young horse to a reputable and professional colt-starter are many; experience is invaluable. An experienced trainer makes fewer mistakes and is better able to foresee and avoid training problems. Under a qualified and experienced trainer, your youngster should progress faster and have fewer set-backs. Still, a lot of people would prefer to train their own horse, and for those people, I made this video. It's not rocket science but it sure helps to know how to avoid common mistakes.
Starting your own horse under saddle is a fun and rewarding experience that will give you a long-term sense of satisfaction and is a major milestone for serious horsemen. For riders that are skilled and knowledgeable, colt-starting is the next logical challenge. Having a systematic, step-by-step approach and having the knowledge ahead of time about what can go wrong and when, makes starting a young horse under saddle much easier. In making this video, it is my hope that this critical stage in a horse's training will be easier, safer and less frustrating for both horse and human.
Enjoy the ride!
Julie