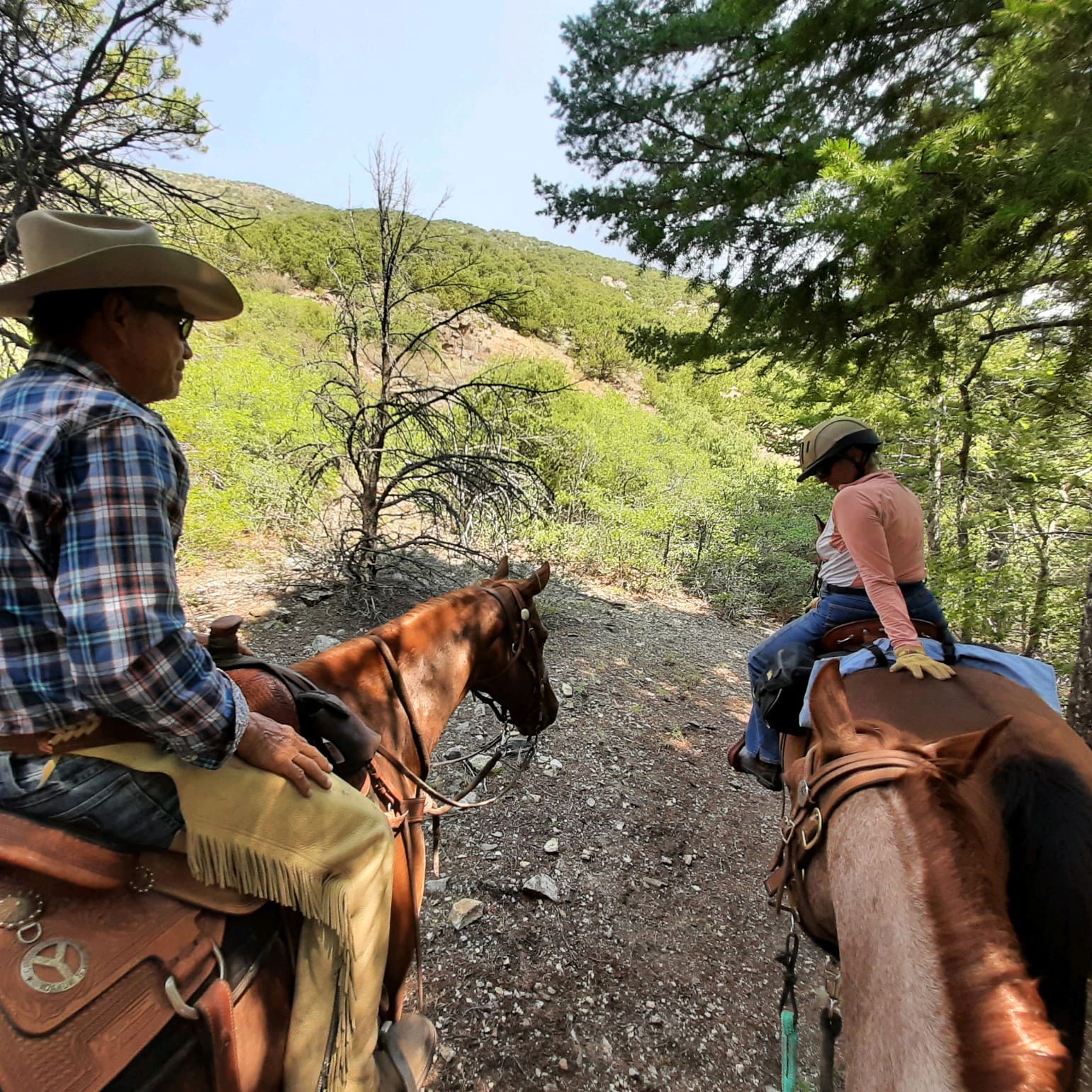 My youngest horse, Pepperoni, just successfully completed his first high mountain ride in the Sangre de Cristo Wilderness Area, a steep mountain range in southern Colorado. It was an arduous test of his skills and I'm super proud of his accomplishment. 
He proved his mettle in handling the toughest terrain, and we gained a great deal of confidence in each other. And even though it required extreme exertion on his part, I think he may have liked it (except for the scary parts).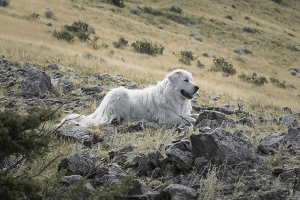 Rich, our horses and I loaded into our living quarters horse trailer and drove to our friend, Lucy's ranch in the San Luis Valley. (Many of you know Lucy because she assists me on the road a lot.) It's a large parcel on the edge of the mountains that borders National Forest and overlooks the expansive alpine valley. We found a picturesque campsite, complete with a water feature to lull us to sleep. And we were faithfully guarded by the ranch's bear-alert system, a Great Pyrenees named Honey Bear. 
The first day, we rode warm-up trails on the ranch, testing the waters (literally), to see if our horses were ready for the wilderness trip. Lucy and her horses know the trails well, and provided an excellent guide service. This is not terrain you want to travel unless you know what you're getting into. I've ridden in these mountains for 30 years, so I already knew that.
Major Creek comes down out of the steep mountains, runs through the middle of the ranch and into the valley. It's rushing and wild, and we knew the mountain trail we were planning to ride the next day would have numerous creek crossings—some of them complicated by bogs, logs, thickets, boulders, and steep banks. 
The Sangres are rocky and treacherous in places, but the rewards surround you in the pristine high-altitude wilderness. The scree slopes are steep, with loose rock in some places and solid rock in others. The terrain ranges from vast and open to closed-in, claustrophobic and thorny, where it's not unusual to encounter traces of bears or mountain lions. I can imagine that to a lot of people this may seem both impossible and exaggerated, but it is typical of the terrain in this area.
The Major Creek trail is not highly traveled (off the radar and not easy to get to), and therefore not highly maintained, so the challenges are abundant. Before riding into terrain like this, you want to make sure you have a solid, mature horse underneath you. One that has the right temperament and maturity for the job, the physical strength and experience, plus the training and requisite skills necessary to be an extreme trail horse and a supreme trail partner.
Is a Good Trail Horse Born or Made?
The short answer is both. But I'm not known for giving short answers. 
Think of being a chef—you must know what you're doing, and be both adventurous and pragmatic with a dose of creativity. But the key to making an exquisite dish is to start with the best ingredients, and then the results are far superior. However, keep in mind that even with the very best ingredients, the dish must be built from scratch and crafted with skilled hands, or it flops.
There are quite a few ingredients in the making of a supreme trail horse:
Temperament

Physical strength

Bravery

Willingness

Presence

Curiosity

Thinking rather than reactive
These are all important qualities that a horse is born with. Horses are both instinctively flighty and investigative, but they generally come down strong on one side or the other.
Surefootedness, in my experience, comes very natural to some horses, and not at all to others. All of these traits can be enhanced through training, but starting with a naturally talented horse sure helps.
There's No Such Thing as a Thirty-Day Wonder 
The "finished" trail horse, like any other discipline of riding, takes years—not weeks or months—to develop. The green horse might go out on its first trail ride very early in its training, but to negotiate a wilderness trail like Major Creek requires a mature horse with exquisite control and perfect obedience.
According to veterinary standards, climbing and descending steep mountains is not an activity for horses younger than four years of age. This is why it was Pepper's first trip. He's done quite a few rides in the foothills and around the ranch. Even though he was started under saddle as a 2-year-old, he wasn't ready for the high mountains until he had the physical strength, the mental maturity and the strong foundational training that gives me complete control and authority—stem to stern.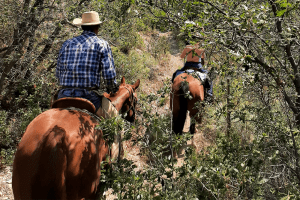 Pepperoni's two years of training and experience hauling to clinics and trail rides prepared him for this day. He had some scary moments when he questioned himself, and then me. But when I asked him for effort, he gave it to me. When I asked him to be brave, he was. He came to trust my judgment over his own as he got more careful with his feet and focused his mind on the mission.
There were times when full body control was necessary to negotiate tight and dicey terrain. There were places where stepping over logs and rocks required deliberation, and places so steep he had to work hard to rate his speed. With every mile of our trip he got better and better, embracing his role as my supreme trail partner.
A lot goes into training a horse to be your partner at this level, no matter what your chosen equestrian endeavor, but there are a few things unique to the trail. After thinking on the subject, I realized it's too much for one article, and worthy of a blog series on the making of a good trail horse. 
Consider this part one, and please join me for later  installments of The Making of a Trail Horse, as I share my personal experience and my pet peeves about training for the trail. Here's a sneak peek at the fun we'll have…
Requisite Manners and Skills

: Tie, load, stand, highline, obedience, work ethic, rating speed, and body control

To Lead or Not to Lead? That is the question:

Training your horse to accept all positions in the line-up, and ride calmly away from the herd when asked.

Sure Footedness:

Evaluating natural talent (or lack thereof), and developing good habits

Navigating Natural Obstacles

:Water, bogs, timber, scree, thickets, and exposure

Live Hazards

: Lions, tigers and bears—Oh My! De-spooking the trail horse