Loading a thousand-pound flight animal into a small container on wheels and driving that live-weight down a busy highway to a horse show or up a 4WD forest road to a trail head, is no easy task and should never be taken lightly.
I remember driving my mom's Buick (circa 1972), pulling a 3-horse-abreast trailer when I was only 16. My horse show buddies and I were headed to a local horse show, saddles in the trunk and our Thoroughbred show jumpers loaded happily in the back. My father taught us to drive and ride motorcycles as youngsters and I'd hauled horses with my dad a lot, so I was comfortable with the routine and confident in my driving skills. Perhaps a bit overconfident, as it turned out.
The roads were more-or-less flat and straight in Florida, so it wasn't until I got off the interstate and headed down the short steep off-ramp that I realized that the extra 3,000 pounds of live-weight in the back, currently surging us forward, was going to be difficult to stop. I can still remember it like it was yesterday—it's the subject of a recurring nightmare for me.
With some serious foot stomping and butt clenching, I managed to slow the rig down enough to slide through the stop sign, without losing traction. The horses were packed-in like sardines, so they made the turn just fine and thankfully there was no on-coming traffic. After that, I took driving horse trailers a lot more seriously.
For the last thirty-five years, I've lived in the mountains of Colorado, near the Continental Divide, in the "inner-mountain" region of the state. For me, hauling horses always requires negotiating mountain passes—some easy, some hair-raising; and usually entails driving hundreds of miles to get to a clinic or event. Our closest trail head on the forest is only seven miles away, but it takes nearly two hours to get there, with a loaded horse trailer on a 4WD road.
With nearly a half-century and thousands of miles hauling horses under my belt, I've learned a few things that might help you avoid a few bumps in the road. Let me share the most significant lessons I've learned regarding the maintenance of a horse trailer, hitching, driving, loading and unloading horses, and the must-haves to carry onboard with you, as you head down the road with your horse.
Don't Skip on Trailer Maintenance
A horse trailer is a great investment because it maintains its value, when taken care of. My gooseneck stock trailer is worth today, just about what I paid for it brand new, twenty-five years ago. So, it pays to put a little money into its maintenance. Not to mention, the peace-of-mind that a safe, road-worthy trailer gives you.
Once a year, I take my trailers to a mechanic to have a safety check performed and the wheel bearings re-packed (some trailers will have sealed bearing that don't need packing). They'll check all the wiring, the trailer brakes, the emergency brake and battery, the tires, the wiring and the lights. The most common problems with horse trailers are wheel bearings, flat tires or wiring/lights. Sometimes trailer tires must be replaced from old-age and dry-rot before they run out of tread. Better to spend money on new tires than get a blowout with your precious cargo onboard.
Make sure you periodically pull out the rubber mats and check the floor of your trailer, especially if it is made of wood. Time, moisture and contaminants can promote rotting or rusting and the trailer floor must be really strong to take a horse's weight as it bounces down the road.
I always muck out the inside of my trailer as soon as I arrive at my destination and unload the horses. I also take my trailers to the carwash after a road trip. Road grime is corrosive over time, so the undercarriage and outside need regular attention. At least once a year, I clean the inside of the trailer with soap and disinfectant and a high-pressure wash.
Be Hitch Savvy
Horse trailers have all different kind of hitches. Beyond bumper pulls and goosenecks, they can have various latches, pins and toggles and require different size balls. The person driving the trailer is responsible for the hitch and the safety of the rig; you cannot delegate this responsibility. You must know exactly how the hitch works and be able to hitch and unhitch it by yourself.
Make sure the hitch on your tow vehicle is professionally installed, your vehicle is well rated for the hauling that you plan to do, and that you have safety chains and an e-brake on the trailer. I've seen horse trailers come unhitched and I've seen the safety chains and emergency brake serve its purpose, stopping the trailer safely without harm to the horses.
Check and double check your hitch and do a full walk-around safety check of your entire rig every time before you get underway. Check the lights and tire pressure and make sure all safety equipment is onboard. Each time you stop, feel the wheel bearings and check to make sure they're not hot or leaking. Do another walk-around safety check before you pull out again.
Practice Driving Until You Get It Right!
If you are not confidant driving a horse trailer, practice will help. Hitch up and head out, sans horses. Practice cornering and braking without causing a shift in balance from side-to-side or front-to-back (remember that it will be even trickier with horses onboard). Drive slowly enough that you don't have to use the brakes—every time you tap the brakes or take a turn too fast, you'll throw your horse off balance.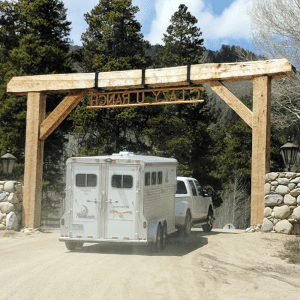 Backing is the nemesis of most rooky trailer drivers. It's not that hard if you will only practice. Find a big open area (free of obstacles) or a little-traveled country road to practice. First, just practice backing up straight. If you can back your rig straight, you've got a head start on most people. Line the wheels of the trailer up with the wheels of your truck and try to keep them that way with only minor adjustments.
Once you can back up straight, you can practice turning and parking. Here are a couple of great tips for backing a horse trailer… If you get confused over which way to turn the wheel while backing up, place one hand on the bottom of the steering wheel and move that hand in the direction you want the back of the trailer to go. Also, steer the back wheels of the trailer—watch them in your mirror and visualize where you want the rear wheels to go.
Make sure your mirrors adjust so that you can see your trailer tires and how they are tracking. A long rig comes to the inside in the turn and you need to know exactly where those rear tires will track in the turn, so you know how wide to take the turn. Practice, practice, practice, until you feel confidant.
Trouble-free Loading & Unloading Requires Advance Preparation
There's nothing worse than being ready to hit the road, but the horse won't load up. It's a given that your horse is more likely to refuse when you are in a hurry to get somewhere. If your horse is not an experienced traveler, you'll want to address trailer loading weeks before you need to drive somewhere.
Horses should not be bribed into a trailer or forced in with ropes, whips or devices. Training a horse to load in your trailer should not be hard if your horse has good manners and is well-trained in-hand. I train horses that once they are asked to approach a trailer, the only option is to get onboard. I never allow a horse to walk away from the trailer, no matter how big a fit he throws. I take my time and wait it out, ruling out the horse turning right or left or backing up. Once he accepts that the only option is forward, he'll walk right on. This may take some time at first, so don't wait until the last minute. Start weeks or months in advance and have the patience to say to your horse, "I've got all day."
No trailer-loading technique has passed the test of time and effectiveness more than feeding a horse in the trailer. You must teach the horse to load first. Then, make sure the trailer is hitched to a vehicle and load him up for his grain and hay, once or twice a day for a week. The trailer soon becomes his happy place and he'll be eager to jump onboard.
If your trailer requires your horse to back out and down a step, it may be harder to get him out of the trailer than in. I prefer to start trailer training with an open trailer that my young or inexperienced horse can turn around and walk out forward at first. Stepping down a step backwards is not something a horse would ever do on his own, so this will require patience and a progression of training. Once he'll walk out forward confidently, then I'll ask him to back one step at a time toward the rear, then turn around and walk out forward, at the last minute. Eventually, Ill ask him to step down backwards.
My video on stress-free trailering explains these training techniques in detail, as well as hitching, driving and backing a horse trailer.
Don't Leave Home Without It
If you have a trailer with a tack room or other storage space, it's nice to keep it stocked with the important things you need, every time you hit the road. I like to keep my trailer stocked with tools and safety items, horse and human first aid, grooming tools and other horse gear that stay on the trailer all the time.
I have a basic tool kit in my trailer with screw drivers, pliers, wrenches, cutters, flashlight, electrical and duct tape. We like to have either a floor jack or a drive-on lifter, in case we have a flat tire when we cannot offload the trailer. If we are traveling cross-country, we might buy a spare set of wheel bearings, just in case we lose the bearings in an inconvenient place.
Human first aid kits should have the standard stuff and I add plenty of comfort items like Chapstick, sunscreen, hydro-cortisone cream, pain reliever, bug repellant, extra-large band aids (for saddle sores) and wet wipes. My horse first aid kit includes wound care items (cleaning and bandaging), ointment, Bute paste and Banamine injectable (the latter two things I get from my vet). I always carry a few disposable baby diapers (newborn size) because they can be useful for bandaging and for girth sores. Hoof boots, well sized to your horse, are good to have as a back up plan if your horse pulls a shoe or becomes sore-footed.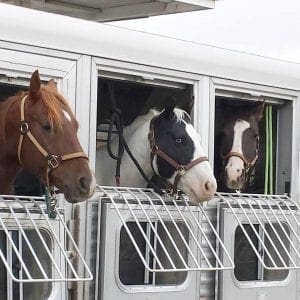 Basic grooming tools and a sturdy hoof pick stay onboard my trailer, as well as a farrier's tool box in case we need to pull or repair a shoe. The comfort products I like to use on my horses, like fly spray (I prefer Ultra Shield Green because it is nontoxic to my horses, myself and the environment), Absorbine and A&D ointment (good for sunscreen and insect bites). We also keep water buckets with straps (one per horse), full hay bags, manure fork and bucket, spare halter and lead, extra bridle/cinch, a leather punch and a leather repair kit, in case they're ever needed.
With my trailer fully stocked, all I need to add are my horse's tack, feed and a cooler, and I'm ready to load my horse and hit the road. I'm far less likely to forget things and have a lot less stress. I keep a small white board inside the tack room door, so I can make note of anything I forgot or want to remember to bring next time.
Hauling your precious cargo doesn't have to be nerve-wracking. When you're confident in your driving skills and your rig is well-maintained and properly hitched, it relieves a lot of the risk and stress. Having your horse well trained for loading, unloading and tying at the trailer takes advance preparation, but makes your trip much smoother. Making sure you have all the tools, equipment and comfort items you need will insure a pleasant trip.
For more detailed information on reducing the stress in hitching and driving horse trailers, training your horse to load and outfitting your horse for the ride, check out my video, Stress-Free Trailering. It's available in DVD, or streaming on-demand at JulieGoodnight.com.