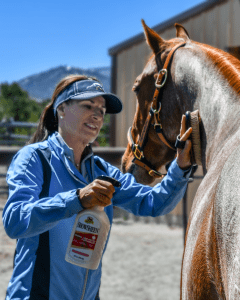 Article by Absorbine: Professional Julie Goodnight weighs in with some tips
Whether you're headed out to the first show of the "season" or keeping a horse quarantine clean, with ShowSheen® from Absorbine®, you can get the job done quickly and easily. While ShowSheen is well-known for putting the finishing touch on horses' coats, adding radiance, conditioning and protection, this barn grooming staple has many other uses.
Trainer and clinician Julie Goodnight says her favorite use for ShowSheen is prior to clipping. "Using ShowSheen before clipping helps reduce the friction on clipper blades, allowing them to glide through the hair better, reducing clipper lines and helping keep clipper blades sharper longer. Before clipping, thoroughly curry and brush the coat up before applying ShowSheen. This will ensure that the underside of the hair is also treated."
Want to produce your own professional-looking results? Try these tips for using ShowSheen:
To reduce burrs and sand spurs, apply prior to heading out for trail rides and before turn-out
For more comfort using fly sheets, use to reduce rubs and static cling
To help repel dust and keep horses cleaner longer, use liberally all over the horse's body
To prevent skin and hair from drying out, let the pro vitamins and silk proteins work their magic and keep horses' coats and hair deep-conditioned
When summer showers lead to the possibility of muddy legs, keep mud from sticking by spraying legs before turn-out.
"For more than 40 years, ShowSheen has been world's number one detangler and grooming aid," says Amy Cairy, director of marketing for Absorbine. "Horse owners are always looking for ways to make the grooming process easier – and have the results last longer. ShowSheen is a staple for every horse owner's grooming box."
Discover why professionals and horse owners worldwide rely on top-rated ShowSheen to keep their horses' coats and hair shiny and healthy. To purchase ShowSheen, click here.