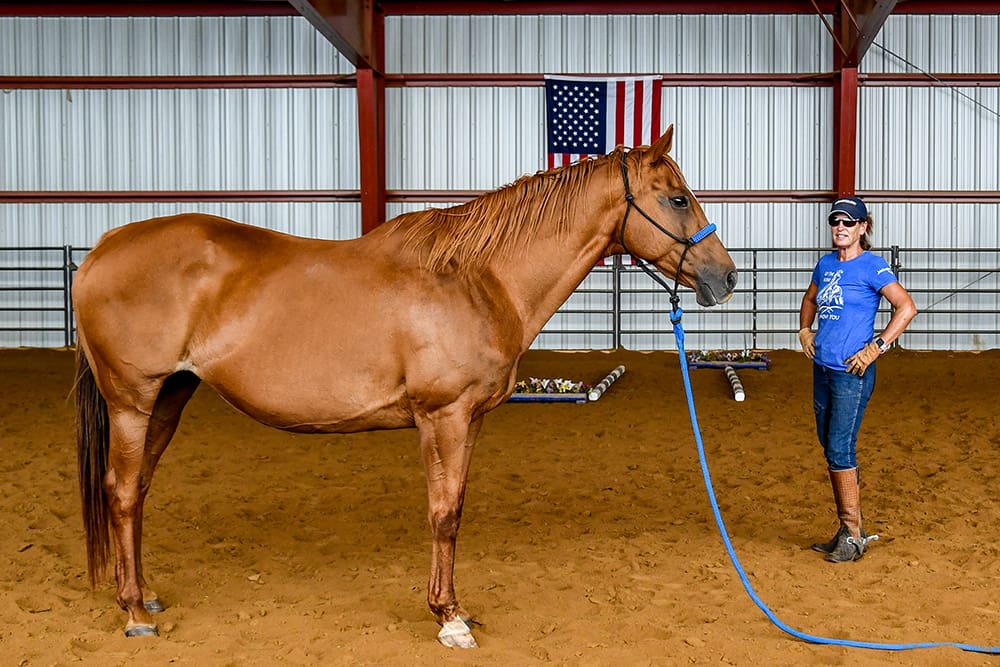 I'm pretty sure no one loves horses more than I do, but I know a lot of you who love them just as much.  We've cultivated a small herd of great riding horses, plus one or two geriatrics living out their golden years at my ranch, and I take great joy watching them every day. Horses have given a lot of themselves to humankind throughout history and today, asking for no more than security and comfort in return.
Owning and caring for horses is fulfilling—way beyond the beautiful vistas as they graze, or the pleasure of watching their subtle communications and clever antics, and even beyond the fun of riding. Anyone who has cared for horses daily enjoys the warmth of their early morning nickers, the mental therapy of raking, the satisfaction of a clean barn, the soothing sounds of horses munching away, and the give-and-take relationship you develop with each horse.
Horses give me exercise and build my strength and confidence. They make me think, organize and plan every day. They warm my heart, make me laugh (a lot), relieve my heartache, and offer the therapy I need.
For 10,000 years, horses have found ways to make themselves useful to humans. Maybe it's time we give something back.
Focus on One at a Time
Watching my own healthy and happy horses frolic in the fields, knowing they will be tucked securely into their cozy barn at night with an all-you-can-eat buffet of high-quality hay, it can be easy to forget that there are tens of thousands of horses in this country alone that need our help.
Each year, thousands of horses find themselves at risk, often after serving humans well for decades. They are at risk of homelessness, neglect, starvation, and abuse. Tens of thousands of horses cross our northern and southern borders each year in semi-trucks bound for slaughter because they got lost in the system.
The numbers are staggering, and when I see my horses galloping in the fields, I shudder to think how different their lives may have been.
But here's the cool thing—if even a
fraction
of the people out there who are qualified to help horses would step up and help just one horse, the problem could be solved in no time. Instead of focusing on saving
all
the horses, what if each of us just helped
one
?
There are thousands of good people all over the country—professionals and volunteers—working right now to help as many horses as they can. I've worked with
The Right Horse Initiative
for a few years to help with the messaging about horses that are in transition and in need of our help.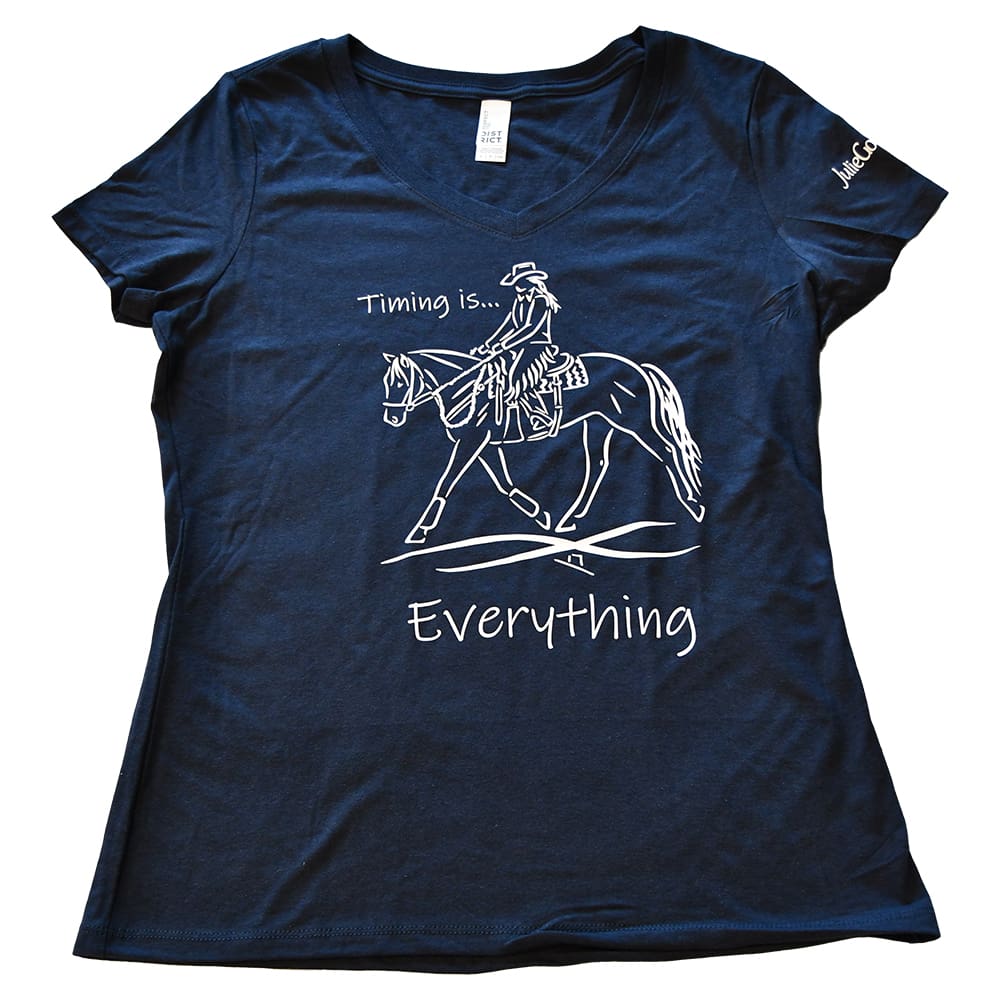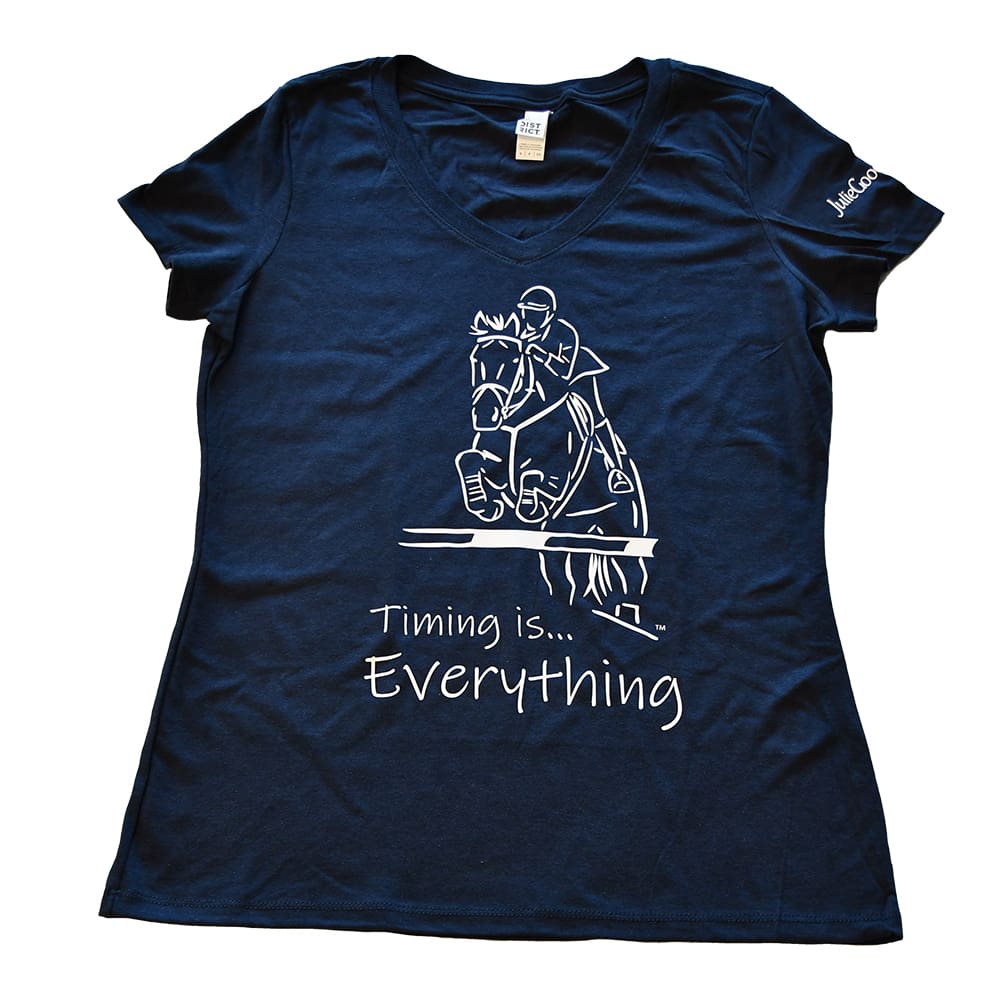 *Brand New* Must-Have "Timing Is Everything" Tees!
Inspiration to Focus On This Training Essential
I am an advisor and occasional guest instructor for the Right Horse Program at Colorado State University, which focuses on training and repurposing horses into careers as therapeutic horses, lesson horses, and recreational horses, and thus securing their future (while educating the horse trainers of tomorrow).
I love training horses and have some skill in that department, particularly as it relates to problem horses or riding horses. Since I have accommodations for an extra horse, I've enjoyed fostering the occasional rescue horse, helping it gain the manners and skills it needs to be successful in adoption. If I do my job well as their "foster trainer," the once at-risk horse will transform into a skilled, beautiful and wanted horse who melts hearts at first sight.
What I personally have to offer to horses in need everywhere is my training services—one horse at a time—to help them find forever homes, and then I can move on to help another horse. I graciously accept the support I get from the 
ASPCA
, and 
Nexus Equine
 in the adoption process and with the foster horses' healthcare needs, and together we strive to create awareness and educate the public about horses in transition.
Obviously not everyone is equipped to offer horse training help—but everyone can offer help in some way
There are a lot of horses out there In need! Whether through donations, volunteering, fostering, adopting a horse that needs you, or simply just helping to create awareness, there's something you can do to help horses in transition.
The Truth of the Matter
Meet my latest foster horse, Truth. I think Truth is the poster child for incredible horses that can get lost in transition from one home to another who deserve a loving, secure home. Truth Takes Time is her official name. She's a registered Thoroughbred who spent her adolescent years running her guts out at the racetrack, then temporarily became a pleasure horse before becoming a broodmare. A decade and five babies later, at the precarious age of 18, she found herself unemployed and homeless.
Luckily for Truth, she was scooped up by the ASPCA's safety net, the Regional Care Center in Oklahoma City, given the health screenings and past-due health maintenance she needed (teeth, feet, deworming, etc.). A microchip was implanted in her neck that will make it easy to identify her should she ever get lost in the system again, and it will forever keep the safety net of the ASPCA around her.
After passing the health screenings, we worked together with Nexus Equine in Oklahoma City to bring Truth to Colorado. This took an 
entire network
 of transportation—rescue operations all over the country that  get horses where they need to be in order to have a bright future. That's a lot of people helping—one horse at a time.
Truth arrived at my ranch on April 1, 2021, but she's no April Fool's joke. She's a gorgeous and typical Thoroughbred—a chestnut mare who looks a lot like the picture of her grandsire, Secretariat, that hangs on my office wall. She's athletic, sweet, loves to race the other horses in the field, and is apparently afraid of nothing. She came to me looking rather pot-bellied, wormy, and sagging in all the wrong places. Today, she is healthy, fit and shiny like a new copper penny, after 5 months of high-quality feed and 
Cosequin ASU Joint & Hoof Pellets
.
Originally, my intention was to restart this mare under saddle, and I did without any red flags. I rode her in the arena and out in the open, but later on we discovered an arthritic condition in her spine. Even though it is perfectly treatable by a capable veterinarian, we decided that Truth has probably done enough for people in her life, and she doesn't need to start a third career as a recreational riding horse.
Think Outside of the Saddle
The good news is, you don't have to ride horses to enjoy them! Riding sports aren't the horse's only purpose, and there are plenty of folks who own horses and don't ride. Horses can serve so many functions from companion animals, to ground lessons, to in-hand activities like obstacles, liberty, or in-hand dressage (FYI:
Truth would rock at this
!). But nothing beats the satisfaction of providing a safe forever home to a horse that deserves it and appreciates it.
After 5 months of training, Truth's physical condition has blossomed. She enjoys attention from people now, she keeps her mini herd well organized (she supervises one ancient old friend and a yearling Clydesdale colt), and has learned the polite manners of a family horse (versus a race horse). She requires no special food or health treatments, she's very sound, and she comes with a year's supply of 
Cosequin ASU Joint & Hoof Pellets
.
I am also offering a private clinic  to the family that is lucky enough to adopt her. If you think you are the right fit, 
click here to get in touch
.
If Truth's not for you, there's another horse out there that needs your help. There are rescues in your area and they all need our support. The numbers of horses at risk in this country are huge, but so are the hearts of people who love horses.
To find out how you can help horses in transition, please go to 
MyRightHorse.org
.