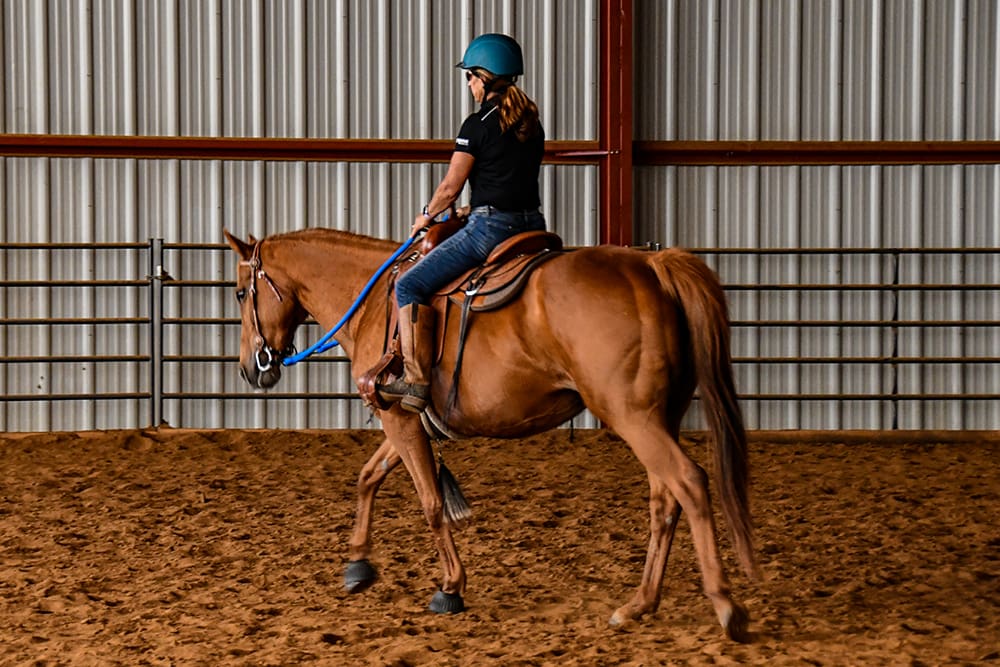 Seems like just yesterday I was complaining about winter lasting too long, and now we are enduring a record-breaking heat wave! But ours is a dry heat, and with a little breeze, we can still comfortably work horses. On the upside, it's finally warm enough to bathe the horses and get rid of the winter build-up of gunk in their coats and on their skin.
After a thorough bathing, I can tell the horses actually feel better after being dirty for so long. (I use ShowSheen 2-In-1 Shampoo & Conditioner and scrub down to their skin with my HandsOn grooming gloves, followed by a liberal coating of ShowSheen detangler.) Best of all, their coats shine, their dapples stand out and their manes and tails flow. Of course, even though they like feeling clean, the first thing they do is go roll in the dirt, but at least the ShowSheen helps keep them stay cleaner for longer!
My little mare, Annie, is sporting a trim waistline (for a change), and shines like a copper penny. I don't ride her every day since she is well set in her training, although she gets daily exercise, grooming and handling.
My younger horse, Pepperoni—now 5 years old—is doing well too. My big goal for him this summer is to get him up in the high mountains. He's bred to be a cow horse, and I think he has good talent there, although I have not had an opportunity to put him on cattle. But oddly, Pepper seems exceptionally talented as a trail horse.
He's brave, forward moving, curious by nature, and always looks for adventure. His steady nature and eager-to-please attitude makes him the perfect equine partner. Riding horses in the high mountains of Colorado can be adventurous, and even treacherous, with steep and rocky terrain, an abundance of big game (moose and elk), and the occasional predator (mountain lions lurking in many places). Riding up in the mountains requires a strong partnership between horse and rider, and a horse that you can count on to perform in all situations. For this, Pepperoni is perfect!
Have you been following my updates on my Facebook page about my foster horse project, Truth Takes Time? She's an 18-year-old registered Thoroughbred. She raced for 3 years, then became a broodmare for 10 years (pushing out five babies), and then came into the rescue pipeline. My job is to get her fit and shore up her training so that she becomes eligible for adoption, and will find her ideal forever family.
Goodnight's Principles of Riding Training Videos
Position, balance, rhythm & cueing
Exercises to improve riding skills
Cantering—everything from how to ride the canter to flying lead changes.
For the more advanced rider, advanced use of the aids, collection & lateral movements
I have to say, Truth is surprising even me with how fast she is putting on weight and muscle, how well she has taken to the training, and how far she has come in the two and a half months she's been with me. You can follow her progress from the beginning on Facebook (Facebook.com/JulieGoodnight) or YouTube (YouTube.com/JulieGoodnight), and we post a new video every Thursday at noon ET.


When I first picked up Truth, she looked like a worn out broodmare—she had no muscle tone, no topline, a huge belly, and was moving rather stiffly. As is typical of Thoroughbreds, she had shelly cracked hooves, with one rather serious quarter crack that ran the full length of the hoof. With her age and history, along with the poor condition of her feet, I put her immediately on Cosequin® ASU Joint & Hoof Pellets, a brand new, cutting edge supplement, along with an all-you-can-eat buffet of high-quality alfalfa/grass mix hay, plus some senior grain.


I'm patient when it comes to complete makeovers on horses, but I've been shocked at how quickly this mare has come into shape! Her topline is getting stronger, she's put on weight, and she's moving beautifully now. In fact, we've recently started riding her, and she's really getting into a groove!


She may be ready for adoption sooner than I thought, so if you have a place in your heart for a lovely, athletic, and deserving mare, take a look at her videos. Right now, there are literally thousands of great family horses like Truth that are in need of permanent homes and are available for adoption. To find out more about horse rescues in your area and what horses are available, go to MyRightHorse.org.


I fear the summer is slipping away too fast and that I won't be able to squeeze in everything I want to do, so I'd better get moving! I hope your summer is filled with great adventures on your horse,and I'd love to see you at one of my clinics somewhere down the road.


Enjoy the ride!