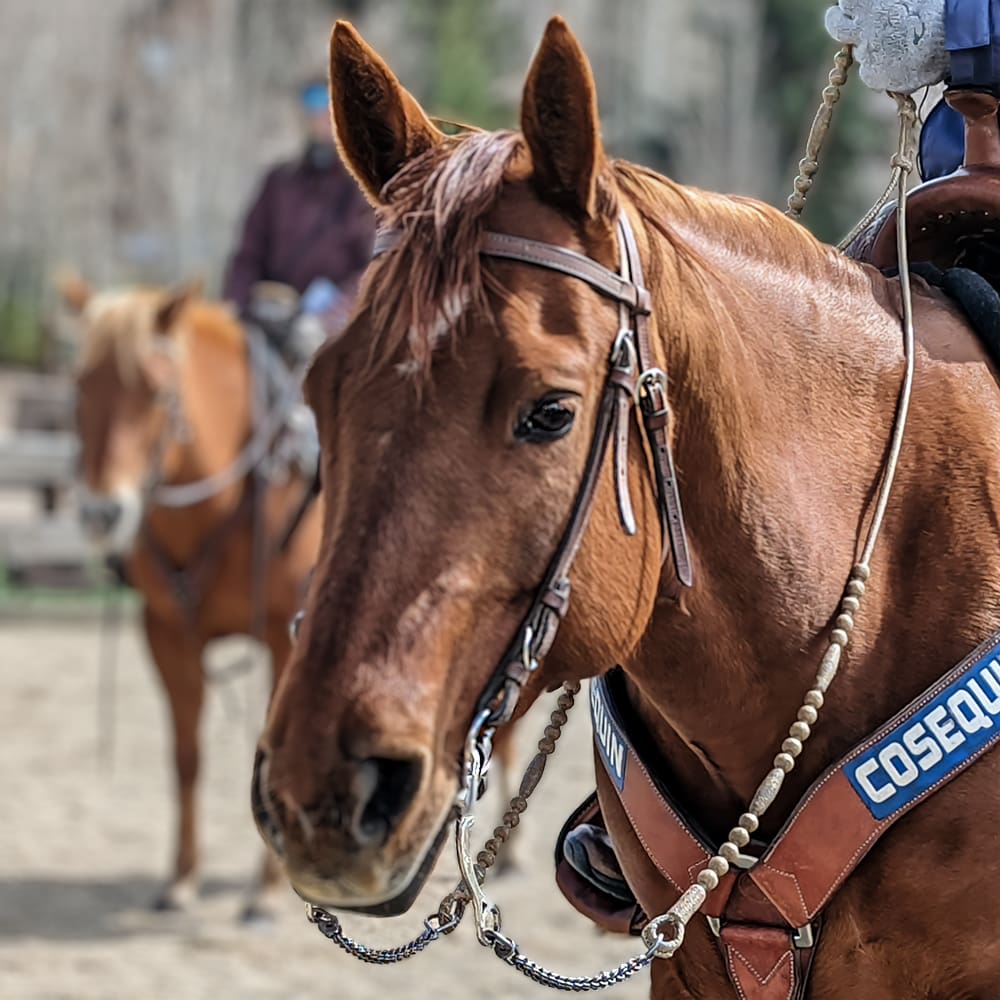 In the past four months, I've traveled coast-to-coast for many different horse expos and clinics—just like before-times! It was great to be back on the road again, to meet new people and horses, see lots of familiar faces, and have fun with people as we celebrated our passion for all things horse.  
At first, there was a momentary pause on my part (How did I manage all this travel before? Will I remember how to do my presentations? How will my horse perform after two years off the road?), but not to worry! It was just like riding a bicycle. For me, that kind of muscle memory just doesn't go away.
My little mare, Annie, clearly had the same brief moment of "What the heck am I doing here?" as we headed into a vacuous coliseum for the first-time post-pandemic. My heart swelled with pride when I saw and felt Annie take a deep breath, put her head down and march boldly into the arena with purpose. 
She seemed to enjoy the crowd as much as I did. I should've never doubted myself—and certainly not Annie—but this is what we humans do. Self-doubt is normal and ever-present (and perhaps reins us in at times). As long as we don't let self-doubt define us—and armed with the ability to summon your self-confidence and believe in yourself—it doesn't have to be a problem.
Currently, and for the first time since I can remember, I only have one personal horse. Missing is the young, up-and-coming prospect that I typically have waiting in the wings—keeping me busy planning its development, and being obligated to ride every day. 
Goodnight's Principles of Riding Training Videos
Position, balance, rhythm & cueing
Exercises to improve riding skills
Cantering—everything from how to ride the canter to flying lead changes.
For the more advanced rider, advanced use of the aids, collection & lateral movements
As much as I love and appreciate riding a been-there-done-that, finished bridle horse like Annie, what I love most is training young horses and watching them grow and develop. I know my next young prospect will come to me eventually, and I am patient. He may not have even been born yet, but I will know him when I see him.
Until then, I am relishing the ease of only having one horse to contend with and appreciative more than ever of not having to feel guilty that I didn't ride today. Annie is a horse that can literally go months and years with no riding, and you could step up into the stirrup and have the best ride of your life. Those of you who are fortunate enough to ride a horse like that know exactly what I mean. 
The right horse, at the right time, is an amazing thing and should never be taken for granted. Don't get me wrong, Annie is either ridden or exercised daily, whether I am home or not. She's never been left to languish in the field. 
Annie is a professional performance horse who I rely on regularly for video production, photo shoots, teaching clinics, and giving public performances. She must stay fit, slick, and tuned-up. (I try to do the same, but it's not as simple and unfortunately nothing someone else can do for me.) 
I have a lot invested in my horses, and caring for them as best I can has always been important to me. It's a simple life-lesson my father taught me, in the contact of horses—if you are going to do it, do it right! I'm certainly not perfect, and I don't have all the answers, but I will always give it my best.
Summer is upon us now! Annie and I have one more public appearance next month—an educational horse expo for Harmony Equine Center, here in Colorado, then I'll turn my focus to making new videos and developing more content for my online Academy.
Oh yeah, I plan to have some fun this summer too! I've got a brand-new high-performance mountain bike (not planning to break any bones biking this year), and I need to make up for some time I've missed on the water, boating and fishing. Good thing I have a horse that doesn't need riding every day!