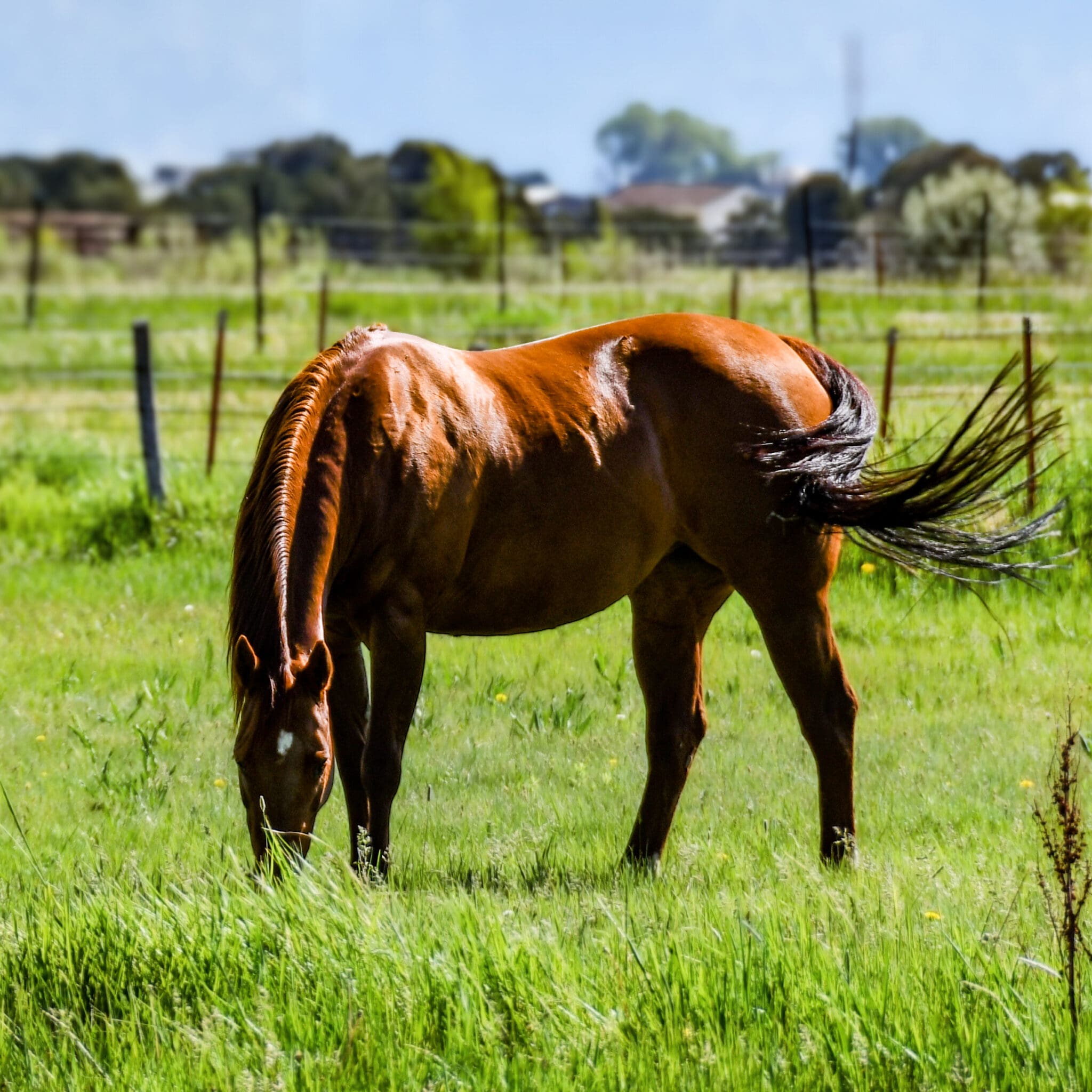 It was disappointing to find out that my beloved mare Annie did not settle into pregnancy after her second round of breeding and a month at the mare-care facility about 75 miles from here. We were so looking forward to bringing her home and spoiling her, but after talking to Dr. Marrott, the equine reproduction specialist who is caring for her, I felt a lot better. "Thirdtimesthecharm" could be a fun name for a colt!
The fact is, at the age of 16, Annie's a bit old to breed. In the world of horse breeding, a mare that has never been bred is referred to as a "maiden mare." Older maiden mares are notoriously difficult to get settled. Dr. Marrott warned me from the beginning that even though she did not show any signs of infection in her uterus, there could still be trouble lurking there. We bred her the first time in early May. Although she bred well (by artificial insemination), the embryo failed to attach in the uterus (commonly referred to as "settling").
Subsequently, Dr. Marrott medicated and flushed her uterus until it was pink and healthy. A lot of disgusting yuck was flushed out in the process, and she seemed to be ready to breed again. Unfortunately, round two of AI did not result in a pregnancy, but as Dr. Marrott optimistically put it, "We really can't count the first round of breeding, because her uterus was in such rough shape." It is certainly not unusual to breed a mare two or three times before getting her settled.
Dr. Marrott also reminded me that breeding mares is no different from human conception—it usually doesn't happen on the first attempt. Even when all conditions seem right, there is still a roll of the dice.
Given that I've already got a large investment into this breeding plan, and that there is still a little time left in the breeding season, we've elected to breed her again. Dr. Marrott feels good about her chances. Annie seems to be cycling well, and her uterus has stayed fresh as a daisy, so in spite of her being an older maiden mare, we are hopeful.
Want a Saddle Fast, at the BEST Price?
Balanced Ride • Narrow Twist • Comfort for Horse & Rider
Ready to Ship Today! (719) 530-0531
Annie is due to come into heat again soon and should be ready for breeding on June 3rd or 4th. He will watch her closely and order the semen from the 6666 Ranch with split second timing to inseminate her at precisely the right time. After that, we will again sit on pins and needles for two weeks until her first preg-check⁠—14 days post-breeding.
Meanwhile, I saw that Bet Hesa Cat, the sire of Annie's future foal, is #5 on the top 10 list of cow horse stallions. I love this horse's conformation and his temperament, and I can just picture an amazing foal by him out of Annie. I'm not yet prepared to think about an alternative plan if we can't get Annie settled. Right now, I'm too busy visualizing my dream.
Back at my ranch, we just finished a HUGE video and photo shoot for Troxel Helmets. The entire production involved two camera operators, two grips (helpers), three horses, three models, 16 helmets, and two trips up to the mountains at 4:30 am to catch the sunrise. And our efforts paid off—we got some epic shots!
The 2 ½-day photo shoot was challenging and exhausting for all of us, but it was super fun to ride out in the dark as the skies gradually lightened, the wildlife began to stir. We arrived high up in the mountains as the sun emerged from the horizon.
Fortunately, Rich was happy to let me borrow his horse, Casper, so that I had a horse to ride in Annie's absence. It was fun to get to know Casper a little better. Even though he's trained as a reiner and ranch horse, he's incredible on the trail too. But I'll be honest, I really miss my 14-hand, smooth-gaited mare!
Now, with the photo shoot and my last spring clinic behind me, it's time for me to focus on enjoying the summer! It's absolutely gorgeous right now in the Colorado mountains, with snow-capped peaks and lush green meadows. I count my lucky stars every day to live in this amazing place, surrounded by wonderful people and beautiful horses. I am eternally grateful for everything that I already have, but I've still got my fingers and toes crossed for good news about Annie soon⁠. At this point, I'd even be happy with a filly!
Want a Saddle Fast, at the BEST Price?
Balanced Ride • Narrow Twist • Comfort for Horse & Rider
Ready to Ship Today! (719) 530-0531