We've had some transitions around our barn in the last month. Recently, we said a final farewell to our old friend, Roger Dodger—possibly the best cow horse I ever rode! Dodger was 30 years old and lived a long and productive life– his first 13 years he was the foreman's horse on a big Texas cattle ranch, and the last 17 years, here with us in Colorado. Dodger was laid to rest here at our ranch, beside some of our most treasured horses who also lived out their old age in dignity and comfort in the past few decades.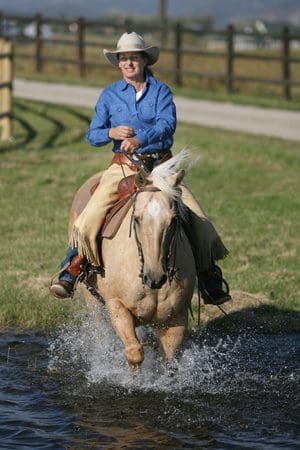 I bought the handsome palomino gelding at the very first Legends of Ranching performance horse sale. He was a hot-blooded, power-packed 13-year-old and he was WAAAY too much horse for the average rider. After a decade of doing serious ranch work, this horse was an expert at all phases of cow work, with the ability to immediately adjust to any task at hand—be it herd work, cutting, roping, boxing, or going down the fence. (Aren't sure what "down the fence" means? Google "reined cow horse.") 
I kept Dodger for myself for a few years, slowly de-tuning his training so he was less reactive and responsive, getting him used to a slower pace of life, and giving him time to learn to be a pleasure horse. Then I sold him to one of my best friends, Lucy Achenbach (who many of you have met because she travels with me a lot and has assisted in more clinics than I can count). 
In the years that followed, Lucy and Dodger climbed all over the Colorado mountains and did a variety of ranch horse activities where Dodger was always the star of the show! He came back to live here at my ranch 7 or 8 years ago, where he lived out his retirement in style. We will miss that horse, but Lucy and I both consider ourselves lucky to have Dodger in our lives, and we cherish the memories.
Another big transition to our herd occurred when my young horse, Pepperoni, left for Texas, with my dear friend Nancy. This was not a sad occasion for me because I am not saying goodbye to this exceptional horse. Nancy and I have shared a few horses in the past decade, and she made me promise, when I bought Pepper, that I would give her first consideration if I decided to sell him. 
A Note from Nancy:
When you were at the auction and told me about how much you loved this horse, I immediately looked into his background to see how he was bred. He had a great dam and sire and of course his grand sire is Peptoboonsmal. I've followed every move you've made with this horse and at times I would ask, "When are you going to sell him?" and remind you to think of me!
Having bought horses from you in the past, I had my eye on him from the start. The timing was right for both of us, and I was super excited that I would soon be his new mom. Riding him several times, and of course knowing his background, I was very excited to bring him home.
You and I have been friends for a long time, and we try to see each other once or twice a year. With that, I had comfort knowing you would still see him and that he would be "our" horse, always.
Because what I love most is training young horses, and because Pepper has matured into a big and talented horse, I am ready to start over with a younger and smaller horse. Nancy and Pepper are the perfect match for each other, and I know they will go on to do great things together. Our longstanding agreement is that he is not her horse, but "our" horse. I know that she will share him with me whenever I am doing clinics or events near her. So that's how I ended up riding Pepper during my presentations at the CHA International Conference this month, where he performed like a champion in the Fort Worth Cowtown Coliseum, and made his other-mother proud.
Luckily, I have my awesome little mare to ride, who is right-sized for me at fourteen hands even. Annie is a quick-footed reined cow horse, a sports car edition, finished in the bridle and a machine on the trail. Now that I have more time to ride her, it's been fun getting back in sync with her. She's one of the best bridle-less horses I've ridden, and after three years of training a big, young, rambunctious horse, she will be a blast to ride!