About Ride On with Julie Goodnight
In every episode, I'll share insight on training topics from ground manners to lead changes, horse behavior or riding tips. 
Listen anytime as you ride or on your drive to the barn. New episodes are released every month!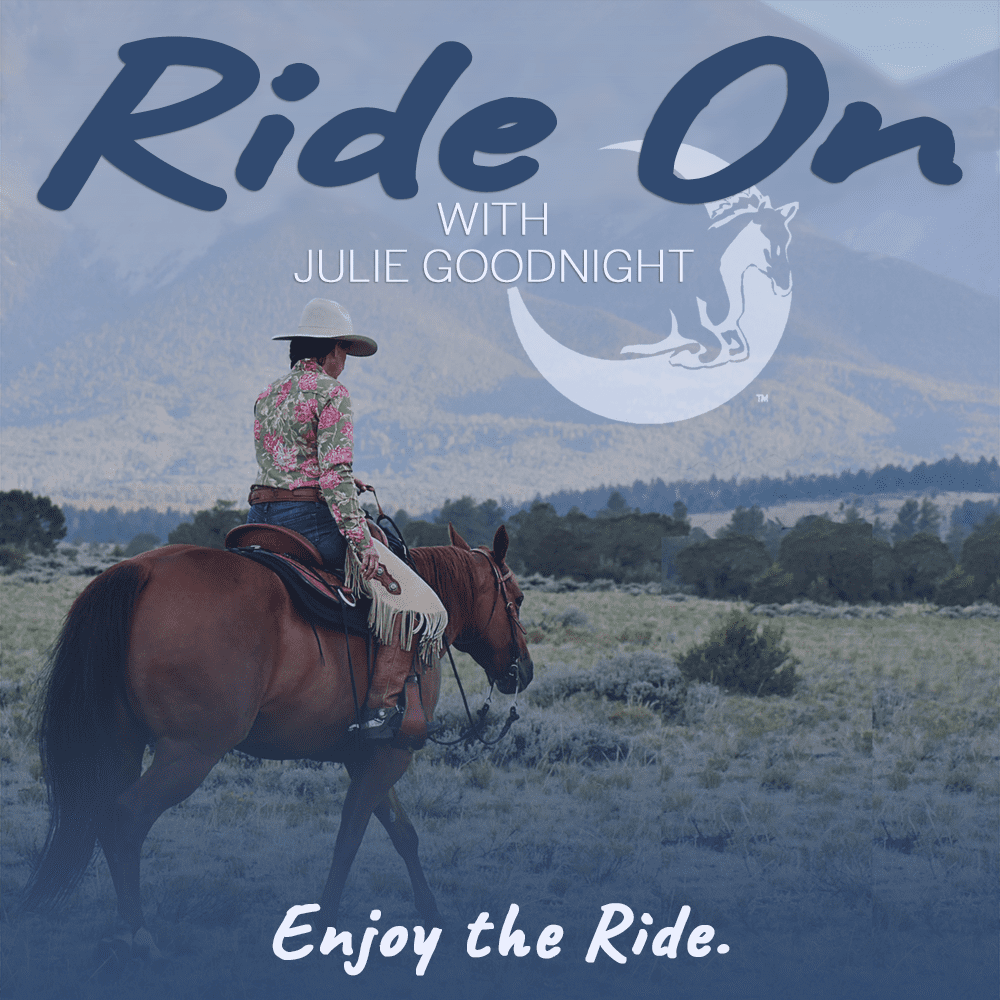 Got Horse Goals? Start Your Journey:
Download Julie's Goal-Setting Guide & join the Horse Goals or Bust Facebook Group to start your journey with Julie!
Reflect on the past year to envision what you want this year.
STEP 2 | Your Plan of Action
Use your reflections to craft your goals & outline your plan of action.
STEP 3 | Fitness & Conditioning
Evaluate your horse's current fitness level & develop a conditioning plan.
Take Another Step Each Month!
Do you want your question answered in What the Hay? Q&A, or have something you want to hear about on a future episode?

Tell Julie here:
Julie is Awesome
Julie is awesome!!! Thank you for taking the time to do this, we all appreciate it! Julie has the best advice!
Thank You, Julie!
Julie is the real deal and this podcast is the best. FREE advice from such an accomplished horsewoman is an incredible gift. I keep my horses on my own place, so I need to keep top-notch information coming to me. So glad I found this inspirational podcast to help me move forward with my horses. Thank you, Julie. It is wonderful. I will be sharing!
Is Your Horse a Good Citizen?
Excellent and informative podcast! This podcast touches on every person's and every horse's good qualities as well as the negative qualities ...and how to improve and change the negative ones! Easy and relaxing listening to important information that all horse people should hear and learn from!!!
Super!!!
Julie's podcasts are really helpful! She gives clear, easy to follow descriptions of problems & solutions. She breaks things down so they make sense. I've enjoyed this podcast so much, I signed up for one of her clinics in Colorado! I can't wait!!! Thank you Julie Goodnight for this!!!
Extremely Helpful
I just recently found this podcast. I have been following Julie Goodnight for a couple of years; watching her at clinics, following her on Facebook. I love how she keeps it simple and easy to understand. I got caught up in listening several good trainers, but it was causing me to try too many methods on my horse leading to very inconsistent riding skill on my part. I have decided to follow just one trainer and focus on those methods. Thank you Julie for helping this rider!!
Great Info!!
I recently found this podcast and I am hooked! I've admired and learned from Julie Goodnight from watching her demos at expos and watching her tv program. She always makes things seem so doable no matter what your problem. She manages to give that same feeling when I listen to the podcast. It is inspiring and educational as well as entertaining hearing her stories of past horses who were challenges I highly recommend listening to this if you are interested in increasing your knowledge and skills with horses!
Good Advice
Hello Julie, You have no idea how your podcast gives me good advice, validating some of my approaches or bringing me back to a more constructive perspective. So let me say a big thank you.
iPhones & iPads
From your iPhone and/or iPad, go to the Apple Podcasts app. (It should come installed on your device, but if it doesn't, you can download it from the iTunes App Store.)
From the app, you can search for Ride On with Julie Goodnight or just Julie Goodnight. After you see it in the search results, hit Subscribe.
Android Phones & Tablets
Go to the Google Play Store (you can complete this step either on your phone/tablet or from your desktop).
Search for a podcast app that you prefer. Don't know which one to choose? There are a lot of podcasts to choose from! Here are a few suggestions:
Click Install on the podcast app of your choice.
Once the app is installed on your selected Android device, you can search for Ride On with Julie Goodnight or just Julie Goodnight.
After you see it in the search results, hit Subscribe.
Stream Online
To stream the podcast on your computer/from your browser, just click the play button on the podcast player below. Enjoy!