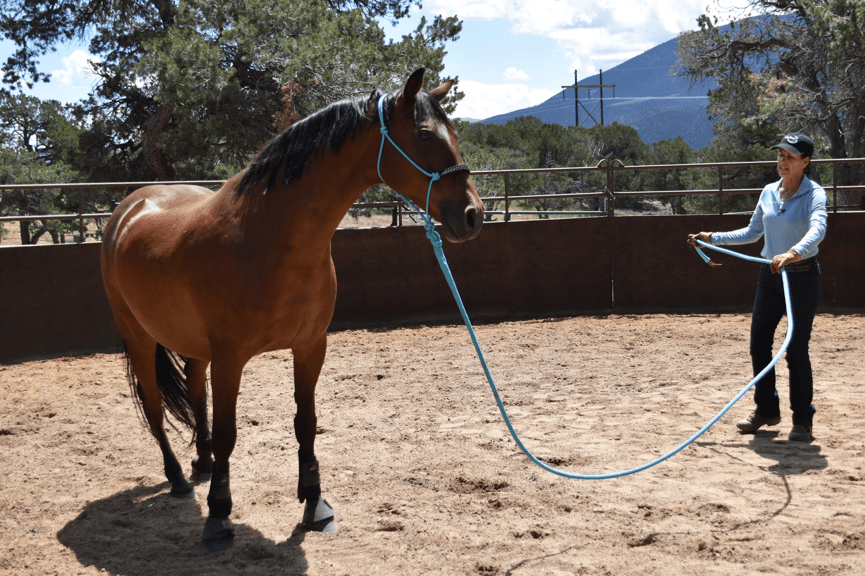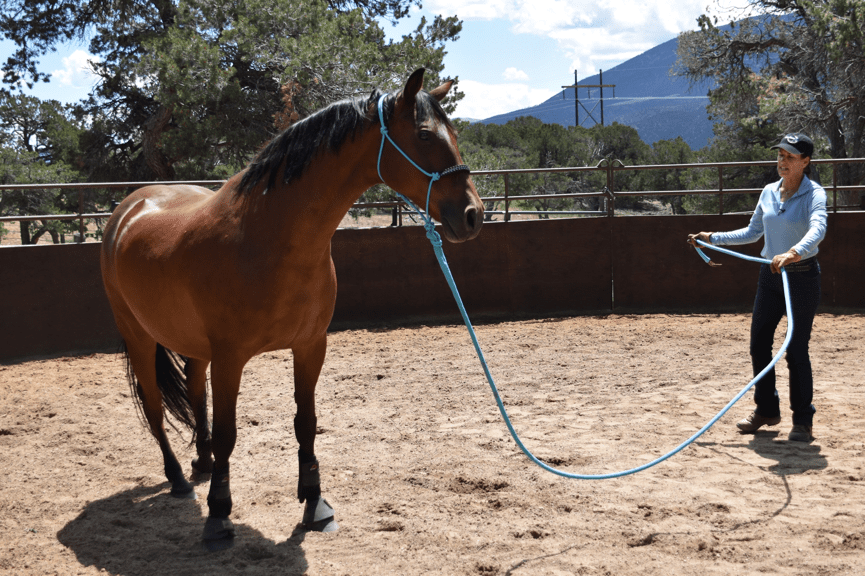 Have You Ever Been Kicked?
Dear Julie: This may be a very odd question, but I was curious how many times have you been kicked or caught in the crossfire in your training career? I've been kicked three times, but tonight I got kicked square in the pelvis by a dominant mare who was going after my mare while I was putting a halter on her. I saw it start to happen, but couldn't get away fast enough. It is the first time I have considered throwing in the reins because it frustrates me so much.
First Time for Everything
One of my earliest memories is of getting kicked by a horse. It was circa 1965. I was 5 or 6 years old and my dad was feeding the horses who had lined up in their tie stalls for their grain. I was watching my dad feed as I wandered aimlessly around the barnyard—right smack into the kick zone of the food-aggressive gelding. Lightning fast, he kicked me square in the stomach—throwing my little stick figure up into the air and landing flat on my behind unceremoniously in the mud. It was the first (but not last) time I got kicked and also the first (but not last) time I got the air knocked out of me. It was, however, the very last time I laid eyes on that gelding. My dad never tolerated unsafe horses. Nonetheless, wrong place, wrong time. Entirely predictable.
Whenever someone asked, "Does this horse kick?" my father always said, "All horses kick, all horses bite, all horses strike." That's a simple fact of horse behavior—Horsemanship Safety 101, if you will. What I would add is that generally when you get kicked, it's because you were too close to the kick zone when you shouldn't have been. I know for myself personally, every time I've been kicked (and yes, there have been many—far too many to count), it was because I was doing something I shouldn't have. Also, I would say, that which does not kill you makes you stronger!
Whose Fault Is It?
As I said, I've been kicked too many times to remember the number. Anyone who has worked with as many horses over as many decades as I have—handling colts, starting young horses under saddle, desensitizing, catching, gentling, doctoring, loading in a trailer—has been kicked too many times to remember each one. Still, some incidents stand out to me (for the sheer stupidity of my actions which resulted in me being kicked). The good news is that we learn (hopefully) from each stupid mistake so we won't get kicked that way again!
Another kicking episode that stands out in my memory, was the time I got kicked in the thighs by double barrels, coming from a shod 17-hand black Thoroughbred. His name was Magic and he was a kind and gentle OTTB gelding that belonged to a friend and client. He occupied the biggest stall in my barn (12×14), yet he made it look small. The door out to his run was wide open, but he barely fit out of it (the old barn being built for much smaller horses). I was in the middle of morning chores and his head was buried deep in the feeder as I walked by his stall. I looked at him, eye-to-eye, as I spoke a gentle, "Good morning big guy," to him. I opened his door, speaking to him again as I reached out to touch his side and move him over so I could grab his dirty water bucket. Whaphumph!!
Although I was absolutely certain that horse had seen me, heard me and understood me to be opening his stall door, when I reached out to touch him I startled him—and he kicked out with both his hind feet. They landed square in the middle of both my thighs and sent me sailing out of the stall, slamming my back into the wall on the other side of the barn aisle. In one huge movement, he kicked me out of his stall and exploded his 1100-pound, 17-hand frame out of the tiny stall door, into the run. Even as I was flying backward out of the stall I knew I had done something stupid—made some unreasonable assumptions—and that this kind and gentle horse was not at fault. The good news is, I will never make that mistake again.
Is Getting Kicked Part of the Sport?
Although horses generally choose flight in response to a threat, they are perfectly well-equipped to fight. Kicking is one of three defensive or offensive "weapons" of the horse, and it is the least deadly. Biting and striking (lashing out with the front feet) are much more dangerous, but fortunately, we see these behaviors less. Horses sometimes kick aggressively (usually backing up and kicking with double barrels, squealing at the same time), but most often kicking is defensive in nature. You see it all the time when a dominant horse comes after the subordinate horse. The subordinate will kick out to buy a little time as he runs away—much like he would kick and run from a predator.
Horses kick at each other all the time, mostly as a gesture or threat. They pull their punches a lot and tend to make contact when they want to. Generally, when they kick at each other (or at you), it is more of a threat or warning and less intent to injure. Often, when they do make contact with a kick, it is to a fleshy or meaty area that can take the punch better. But their aim is not perfect and it is not hard to get caught in the crossfire between two or more horses, as in this case.
Sadly, most people that have been around a lot of horses for a lot of years have gotten kicked, stepped on or bit. Although I do not believe getting hurt must be a part of this sport (and I believe that most incidents are preventable), getting bumped, bruised and pushed around comes with the territory. Still, if you are smart and learn from your mistakes—and if you keep safety as your highest priority—you will be less likely to get hurt. My father taught me that when it comes to horses, always plan for the worst-case scenario. The more experience with horses you have, the more worst-case scenarios you've seen.
Getting Smarter
In most of my clinics, I physically show people the kick zone of the horse, so that they are aware of exactly where it is at all times. The horse can reach forward with the hind foot, almost to his front leg; he can reach the full length of his leg to the side; plus, the full extension of his leg back. That makes about a 3- to 4-foot half circle around the hind leg of the horse that is within his kick zone. To be safe around horses, you must always be aware of the kick zone and when you have entered it. For instance, when I clean my horse's front feet, my head is right in the kick zone. That doesn't mean I never clean his feet, but that I am aware of it and monitoring the horse while my head is at risk.
When you are doing groundwork with a horse and when you are entering a group of horses to catch one, you have extra risk of getting kicked. We do groundwork with horses to move them around and control their space, like a dominate horse would. Often in the earlier stages of groundwork, the horse may feel threatened by the handler. So it is not only normal, but to be expected that the horse will kick out. If you get kicked while doing groundwork, you were in the way and it is your fault—not the horse's.
Another memorable time I got kicked very hard, was doing circling work on a 20-year-old beginners' school horse. I assumed that this gentle old horse wouldn't kick, but I was wrong. I stepped right into the kick zone, then shushed her with the flag. Then she shattered my assumption (but thankfully not my leg). It hurt a lot (and embarrassed me more), but it was an important lesson to learn—and one I share with my students every time I teach circling work.
Going to catch your horse in a group of horses is one of the riskiest things you'll do around horses, especially when you are not familiar with all of the horses or the pecking order of the herd. I'd suggest taking a flag or a whip to keep the other horses in control while you catch your horse. Take your time and keep the other horses away—they should respect your space. If not, chase them off with the flag. Your horse will come to understand what you are doing and should cooperate.
It Is What It Is
Kicking does not make a horse bad. It makes him a horse—and all horses kick. We know that, we should expect that and we should take precautions to keep ourselves safe—All. The. Time. There are sometimes when a kicking response is more predictable, and other times when it can seemingly come out of the blue (usually because we missed the warnings). But the horse's kick range is a finite space; all you have to do is know where it is and stay out of it. I'm not saying that with this knowledge and awareness, you'll never get kicked again. But by being smart, owning your mistakes (which is the only way to learn from them) and erring on the side of caution, it will definitely make you safer!