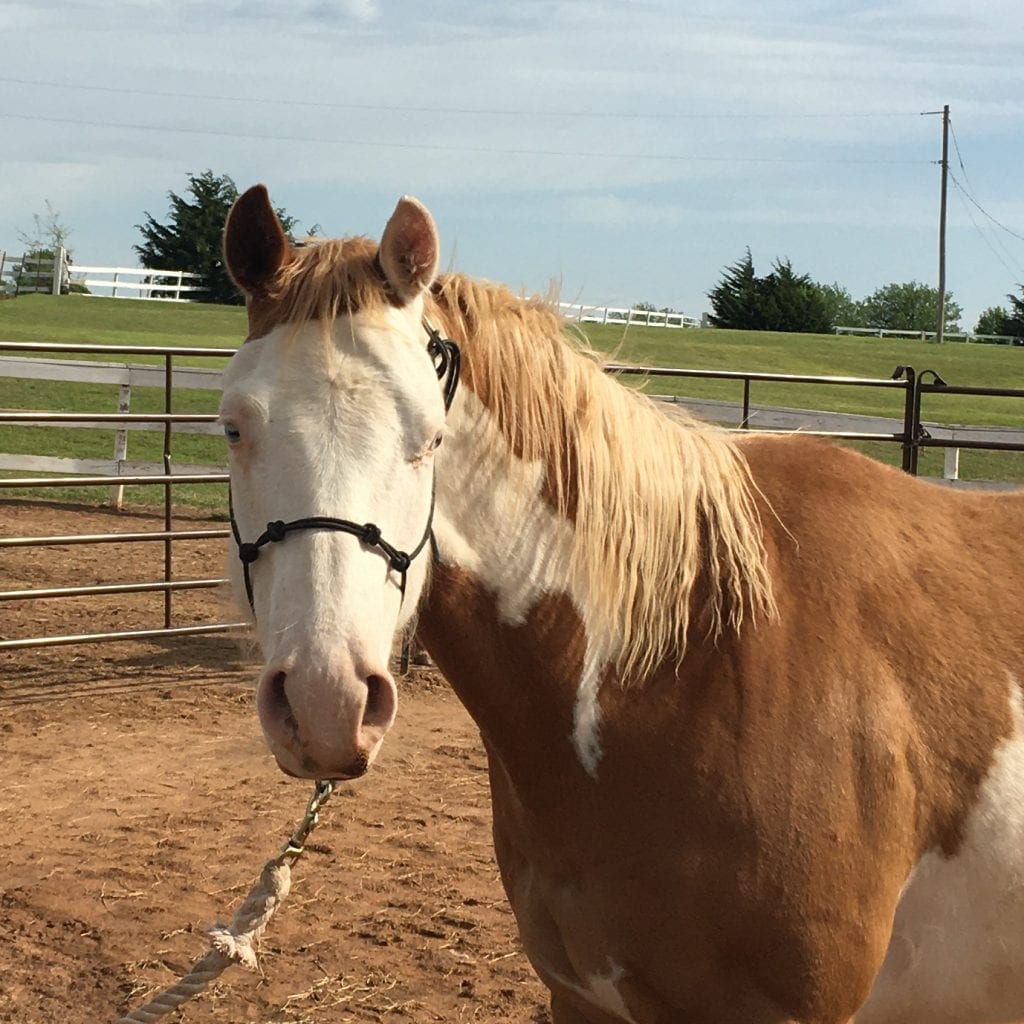 Dear Friends,
This is a story about one horse that needs our help, and the dozens of people stepping up to help horses in need every day. But the truth is, he is only one of hundreds of thousands of horses at risk in the United States. The latest figures from the Humane Society of the United States are that roughly 80,000 horses cross into Mexico or Canada, bound for slaughter each year.
If that seems like a lot of horses, you should know that the number is down significantly from a few years ago when it was around 130-150,000 each year for more than a decade. Keep in mind that these slaughter-bound horses are just a partial reflection of the number of horses at risk of homelessness, starvation, neglect or worse each year. We have two million fewer horses in the United States today, than we did in 2005, as evidenced by the numerous shuttered horse properties all over the country. What happened to all those horses?
How Did We Get Here?
Dr. Tom Lenz, one of our nation's top veterinary experts on horse welfare, authored this fact-based article on the history of unwanted horses in this country. I encourage you to read this article yourself, so you have a realistic perspective on the depth and scope of this issue. Recently Dr. Lenz said, "I think the smaller number of mares bred today, the industry's awareness of the problem and the re-homing of horses by many organizations have contributed to the lowered numbers [of horses going over our borders to slaughter]." But we have a long way to go.
Dr. Lenz explained further, "The horse industry will never completely eliminate unwanted horses. Horses will always age, sustain career ending injuries, or not meet their owner expectations. However, I'm optimistic that the future is brighter for these horses because the horse industry has turned its attention to the issue and continues to develop strategies to both reduce the number of unwanted horses on the front end through responsible care and breeding as well as on the rear end through rescue/retirement programs, retraining for alternative careers, and low-cost euthanasia options. Horse owners today are more aware than ever of how their actions affect the welfare of their horses and an ever-increasing number consider the consequences before they breed, buy, or discard a horse."
Awareness and Action by Others are Saving Horses Every Day
According to The Right Horse Initiative, a horse in transition is any horse who is currently in transition from one home, vocation, opportunity or owner to the next. Throughout their lifetime, most horses will have multiple homes and owners. Often, these horses find themselves in transition due to no fault of their own, rather, as the result of a change in the owner's circumstances (time, location, finances, need, etc.).
Because horses are long-lived animals, on average a horse is re-homed seven times in its life—and at each transition, it may be at risk of homelessness or worse. This is where we pick up the story of Doc Gunner. For us, the story begins in December 2019, when the then 3-year-old gelding was purchased in Kansas by a woman who found the horse via a social media post. Her sole reason for acquiring the horse was to rescue him from a bad situation. This woman courageously stepped up to help one horse, and through her actions, it's quite possible his life was saved.
The gelding was quarantined for 30 days, then trailered to Oklahoma City, where he resided on the woman's small farm until April 2020. He was vetted, vaccinated and dewormed. His neglected teeth and feet were treated and healed. But as is often the case with neglected horses brought back to health, it became increasingly obvious the horse had little handling and training. Although this gelding was fortunate to have one person step up to help him out of a bad spot, his fate was not yet secure.
Meet Doc Gunner
He is a 2015 or 2016 sorrel overo gelding, reported to be registered with APHA (papers lost) and apparently the progeny of Colonels Smokin Gun (aka Gunner), an AQHA/NRHA reining champion from the late '90s and a NRHA Hall of Fame inductee. Certainly, the young gelding strongly resembles the sire in color and movement, plus he was born deaf, as some Gunner foals are. We are investigating his alleged registration with APHA. We know there is a Paint horse registered by that name, we just don't know for sure if it's him. We will run some DNA tests soon, 
Doc Gunner arrives at the ASPCA Regional Support Center in Oklahoma City to be vetted before he comes to Colorado.
which will give us more information about his color, breeding, health, and behavior (and possibly something about his deafness, too).
Although the horse seems quiet and kind, he ultimately proved to be too much for the 75-year-old woman to handle. She contacted the ASPCA Regional Support Center in Oklahoma City, a no-cost, open-door center that provides options for horse owners who need to surrender a horse or seek euthanasia if that is what's best for the horse. At this point, a second set of people have now stepped up to the plate to help save one more horse.
It Takes a Village
Tom Persechino, Director of Equine Welfare at the ASPCA, who helps operate the Regional Support Center, worked with Nexus Equine to get the horse into the adoption pipeline. Persechino indicates the horse is quiet and cooperative with relatively good manners, and although he does not tie and is slippery to catch, he is good with having his feet handled and trailers well. According to Persechino, "The only thing standing in the way of this horse having a happy home and a purposeful life is basic training in ground handling and a solid start under-saddle."
Apparently, this is where I came into the conversation, due to my involvement with the Right Horse Initiative and their efforts to increase awareness of the huge need for foster homes for horses. According to Christie Schulte-Kappert, Program Director for The Right Horse Initiative (and the mastermind behind me taking Doc Gunner for foster training), "This young horse is just a perfect example of a horse in transition. We like to say horses like him 'get lost in transition.' Horses can be at risk when they transition from one career to the next.  Training can often be the missing link that increases this risk."
In mid-April, Christie gently prodded me to put my money where my mouth was. "He's cute and athletic and apparently pretty well bred – we think he could really flourish in the right home, but it will take some training to get him there," said Schulte-Kappert.
"So when Tom brought this gelding to our attention this week," she continued, "your name came up as a possibility to help him become a good citizen and transition to his next career. His story is an amazing example of a 'horse in transition' – not a rescue case, but a horse that needs help to get from point A to point B, and could be at risk in between there. He's a great example of how any horse, regardless of parentage or background, can be in transition at some point in their lives and the programs we're working to build to stand in those gaps."
Doc Gunner Starts his New Journey
On April 24th, Tom Persechino and Katrina Friend, a horse trainer from Nexus Equine, picked up the young gelding from the woman who first saved him and delivered him to the vet clinic that works with the Regional Support Center, where a thorough health, dental and lameness evaluation was completed. A benign mass was removed from a hind leg (possibly a sarcoid or proud flesh), and no other health issues were found. Before valuable resources (in short supply) are spent on a horse, we want to make sure its training will be successful. If not, another horse may need those resources more. Currently, Doc Gunner is at Nexus Equine, awaiting the results of his vet work while Persechino works on his travel logistics to Colorado.
Like the dog and cat world, in which animals in the system are routinely transported to different locations, horses are also transported from state to state, with a goal of giving them the best opportunity to be adopted. Horses, as in the case with Doc Gunner, may be transported to receive specialized training, or in some instances, there may be a higher demand for certain types of breeds of horses in different parts of the country.
"For example, gaited horses may move into new homes faster in states like Missouri, Tennessee or in the Northeast, so if one is sitting in Texas or Oklahoma, we would consider transporting that horse to increase his chances of finding a suitable adopter. We also have learned that some re-homing organizations have become highly skilled at re-homing either certain breeds or types of horses, or have programs that might benefit different horses," said Persechino. "We've seen this with older horses or horses with minor medical issues who still have many good years left in them, however, the key is finding adopters willing to take on horses like this, so we might move horses to a re-homing organization that specializes in finding homes for what one might deem the more difficult to adopt."
Persechino goes on to explain that once they ensure a horse is fit for travel and have its Coggins updated and health certificate in order, the actual transporting is relatively straightforward. "However, we think a key to transporting horses is to try and be as efficient as possible, so we have this understood rule of trying not to leave any empty slots in trailers when we transport! Last year, through the Regional Support Center, we had a group of five horses that we needed to move from Oklahoma to Minnesota. As our luck had it, waiting in Minnesota were 10 miniatures that were having a hard time in the adoption process so as our luck would have it we were able to send five horses north from Oklahoma and load 10 minis up for a return to Oklahoma where they were able to receive some much-needed training and gentling."
"With Doc Gunner, as we're working to bring him up to Colorado, we're also working with a couple of other groups in the area to send them a horse or two and receive some back," said Persechino. "Again, the whole goal of transporting horses is to move them to a location where they have the best opportunities for success!"
The network of individuals and organizations working together to help horses is both amazing and inspiring. This story has left me wondering what would happen if every horse lover in this country made one single effort to help. Would there still be horses at risk?
My Turn to Help
Doc Gunner is awaiting his journey to Colorado, where he will begin training to become a solid equine good citizen and a reliable and safe riding horse. I am taking the gelding into my barn for foster training.
Once here, we will evaluate his training and temperament, then make plans to fill in the holes in his ground manners and start his under-saddle training. Once he is more manageable and rideable, he may go to a foster home as an intermediate step, while his training continues under my supervision, and where his life will more closely resemble the pace of a real home, in preparation for a non-pro adopter (as opposed to the regimented life in a horse trainer's program).
In time, Doc Gunner will be matched with the perfect human to adopt him and who will give him a purposeful and secure life. Fortunately for Doc Gunner, he will always have the safety net of Nexus Equine should he ever find himself in bad circumstances again.
Come with Us on This Journey
We will document Doc Gunner's journey via a social media campaign on Facebook, YouTube and at JulieGoodnight.com, to bring awareness to the needs of horses in transition and how horse people everywhere might help at-risk horses in their area.
We will video this journey and post regularly, so you can follow the gelding's progress as he works his way through the training, fostering and adoption process. With any luck, he'll be on the road soon, headed from Oklahoma to Colorado, and we are eager to welcome him into his temporary home, here at my ranch. My crew and my friends are all excited to help out where they can and it will be rewarding for all of us to see this young horse blossom and have a secure future. It will take a village.
You Can Help Horses Too
If horse owners everywhere made a commitment to help even just one horse a year, imagine how we could reduce the numbers of horses at risk. There are many things people can do to help, even if you're not a horse person.
Now more than ever, adoption is critical—more and more horse owners are affected by the pandemic and are facing loss of jobs or income. Shelters and rescues have limited capacity and even in the best of times are often full or pressed for space.
The American Horse Council and United Horse Coalition both have great COVID-19 information hubs on their websites. UHC has a nice overview on cost-saving tips for horse owners which we encourage owners to implement before seeking surrender options.
Folks can search for adoptable horses at org or visit TheRightHorse.org and click on "Partners" to find an adoption partner near them.
Contribute money to a local horse advocacy organization if you can. If not, maybe you can offer in-kind donations of hay, grain, equipment or services
If you have experience caring for horses, and have space for one or two horses, you could play a vital role by providing a temporary Foster Home for horses, helping to bring them back to health as they work their way through the adoption pipeline.
If you are experienced in riding and training horses, you could be a Foster Trainer, like me, and take on a project like Doc Gunner for training or evaluate a trained horse for the type of home he is most suitable for. There are many trained riding horses that wind up at-risk.
If you have a truck and horse trailer, perhaps you could volunteer to transport horses to their new homes or to their temporary foster homes
Look for safety net programs in your state or region to support. Colorado has a great hay/feed bank organized by Drifter's Hearts of Hope and Colorado Unwanted Horse Alliance.
Horse owners can also reach out to friends and neighbors in their horse communities and offer their help. Seniors or owners with health issues may need temporary help with basic care for their horses, or a place to keep their horses for a few weeks. The more we can help in our local communities in small ways, the more horses we can keep safe and keep in their homes through the crisis.
And at the very minimum, we can all keep our eyes out for horses at risk, that might exist right before our very eyes. Maybe a neighbor needs help. Maybe you see horses that have fallen through the cracks. Be proactive on behalf of horses and contact your local animal control or horse rescue. Who else will advocate for them if the owner isn't?
If you want to help horses like Doc Gunner, be sure to visit MyRightHorse.org to find a horse to foster, adopt or share on your social media.