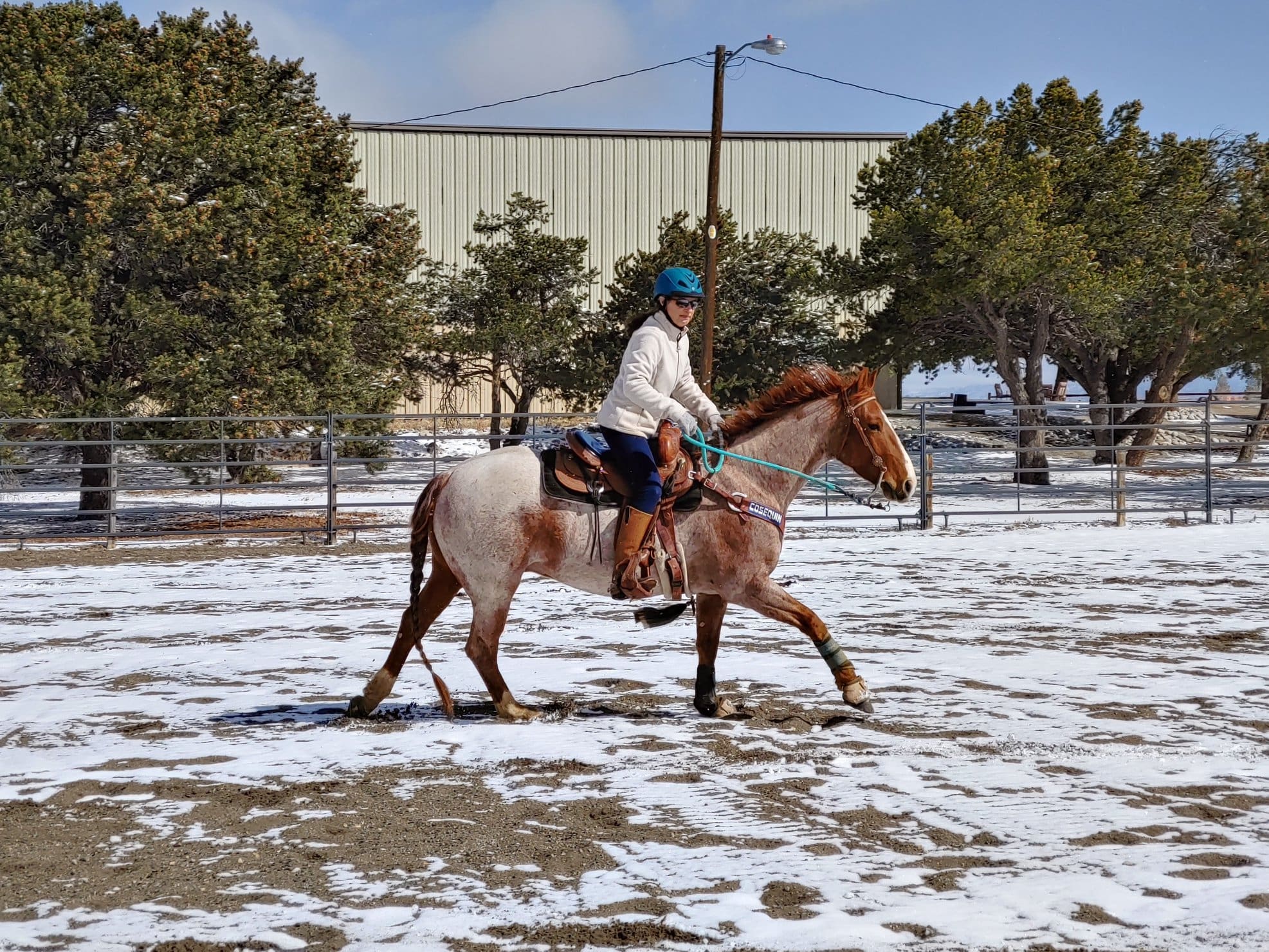 Sometimes life doesn't go as planned. Despite our best efforts, there are times when life-events will supplant your horsemanship activities. Putting in too many hours at work, an illness in the family, a new job, building a house, starting a family, moving or changing jobs are all events that can put your riding on hold for an extended period. But who knew a viral pandemic and national stay-at-home orders would stand in the way of improving your horsemanship?
Right now, people all over the country and all over the world are home from work or school, helping to curtail the spread, with nothing but time on their hands. Have you ever thought how much time you'd spend riding if you didn't have to go to work or school? Or fantasized about being able to spend all day at the barn, with no other demands on your schedule? Be careful what you wish for.
The truth is, in this new reality, some of you are stuck at home WITH your horses, while some of you are stuck at home WITHOUT access to your horses. I'm sure most of you would prefer to be in the former group—to be able to get outside, do the physical chores, groom, ride and train. But without guidance, supervision and structure, how will you improve and what will you work on? If you're in this boat, you might want to check out my riding audios that you listen to while you ride.
For those of you experiencing separation from your horses, not only are your goals and dreams temporarily suspended, but you're also worried about your horse and the separation must be heartbreaking. Still, there are ways to make lemonade.
Sometimes life gets in the way of our plans. That's our current reality and the hand we must play. No matter what your circumstance, whether you're isolated from your horse or not, able to ride or not, there are ways to stay on track with your horsemanship, to grow your knowledge, to improve your balance and fitness, to learn more about horse behavior and influencing a horse's behavior.
I often talk about the Mind-Body-Spirit connection, or, if you prefer, the Mental-Physical-Emotional connection. These are three parts of our being that are inseparable and inter-connected. When you have a thought, it affects you physically. When your emotions surge, it affects the thoughts in your mind and has a physical effect. We do best when these three parts of our being are in balance.
To take it one step farther, if you're stuck at home, separated from your horses or feeling like you've been set adrift, there are many things you can do to keep you mind, body and spirit engaged in a positive direction to further your horsemanship, even when times are tough.
Mental Connection
If you can't go out and ride your horse or your regular riding lessons are cancelled, you can still improve your horsemanship by studying! Read books and research articles, listen to podcasts, and watch videos to learn more about horses and riding. I love to read, especially about horse behavior, and recently I dedicated a blog to my favorite horse books.
I shudder to think where would we be without the internet in times like these. Online courses about horses and riding sports makes study-at-home easy. I started converting all my content to the digital space about a decade ago, in the form of articles, videos and audio recordings and we've amassed a huge resource library. We've got hundreds of episodes of Horse Master, all searchable content, streaming on-demand. My Interactive membership includes an online curriculum, study resources and assignments, plus personalized coaching from me. There are plenty of educational resources out there, both paid and free. And remember, when you read a term you don't understand, look it up in your Equine Dictionary!
Study horsemanship theory—classical riding. The higher you go in your riding level, the more important riding and training theory comes into play. It's less mechanical and more cerebral. Read the Book of Xenophon, the oldest known complete work of horsemanship (written almost 4,000 years ago). Take a cross-discipline approach and study skills and techniques in other disciplines of riding than the one you are used to. There's more to riding than heels down, eyes up and shoulders back!
Focus is an important mental skill in all areas of life, but especially with horses. Multi-tasking is not as valuable as the ability to bring 100% focus onto a singular task. I'd guess that all accomplished riders have exceptional focus. It's a skill you must hone and practice. To me, riding my bike on a single-track trail in the mountains, is as much an exercise on focus as it is physical. Riding a horse can be similar. Check out this exhilarating helmet-cam video that shows the amount of focus it takes to pilot a powerful horse through a five-star cross country jumping course.
In everyday life you can find ways to improve your focus with brain teasers, meditation, exercise, jigsaw puzzles, or simply putting your phone down and practicing listening skills.
Physical Connection
Riding is a very physical sport, so getting in better shape will help. Also, since horses communicate primarily with gestures and postures (body language), having good control of your physicality and body language helps you communicate more effectively and actually will help you ride better.
Balance is the #1 skill required of riders. It's a challenging balance sport, because it's a balance-in-motion and the synchronization of the balance of two animals—horse and human. Each has a will of its own and a balance of its own. Balance is a skill that naturally declines with age, peaking at about 18-20 years old. But no matter your age, young, old or in-between, you can always improve your balance through exercises that challenge your balance.
I'll give you a full refund for the price of this blog if you practice a simple balance exercise two days in a row, and don't see a huge improvement the second day. Balance improves rapidly when you work on it. Whether your exercise is as simple as balancing on one foot when you brush your teeth, or as complicated as walking a tightrope, you get better every time you practice and anything you do to improve balance off the horse, will help you on the horse as well.
Core strength is essential to good balance and to great riding skills. Riding is a weird combination of balancing while seated and synchronizing your balance with the horse—making your core strength and center-of-gravity critically important. It's not enough to just do sit-ups and strength-building exercises, you must also use your core for balance and coordination. There are many great workout routines that address core strength and balance, and you can look at my favorites here.
Bi-lateral coordination refers to being equally strong and coordinated on both sides of your body. But the sad truth is, most of us are one-side dominant—as are most horses. Once again, getting older doesn't help because often old injuries, scoliosis or arthritis will make lateral imbalances more pronounced. I seek out activities and exercises that help me develop bi-lateral coordination and I like to work my weak side more than my strong side.
I enjoy exercise routines like Pilates because it helps me identify my lateral weaknesses, which in turn affect my horse's performance. Exercises that improve bi-lateral coordination are fun—try patting your head with one hand and rubbing your stomach with the other at the same time. Try signing your name with your other hand. Groom with two brushes– wax-on-wax-off (one of many reasons why I love the HandsOn grooming gloves. 
Most riding errors are posture related. If you do it on the ground, chances are you do it on the horse. Also, posture declines with age—that's a fact of life. Our body shape changes with age from year one to 100. But like balance, you can always improve your posture. Just simply making an effort to sit up straight or making a mutual agreement with your friend or spouse (I'll remind you if you remind me) to kindly point out when you are slouching, will go a long way to improve your posture. Better posture is good for your health, your confidence and your riding! 
Emotional Connection
Having faith in a positive outcome is important no matter how bad or chaotic it seems in the moment. Things will look different with time and perspective. Having confidence in yourself is not easy, but sometimes it's required. "I've got this," "I've been through worse," "I love this!" (as my friend and colleague Barbra Schulte would say in any moment of adversity), are productive messages to give yourself. Just like when your horse spooks and blows up on you, you need to stay focused and proactive and do what you and your horse know how to do.
Everyone has moments of self-doubt. It's normal. But not everyone has the grit to deal with it. The ability to embrace failure as an opportunity to learn more and succeed next time, the ability to lean-in when the going gets tough, and the ability to have faith in the positive outcome require true grit.
Building confidence and honestly examining your fears will not only help with your horsemanship, it will impact everything in life from scolding a naughty horse to asking your boss for a raise. Building your confidence will not happen automatically, it's an attitude you must develop and maintain. There are many tools available for building confidence on my website, including a motivational audio and an online short course, both called Build Your Confidence with Horses.
Practice controlling your emotions through deep abdominal breathing and mental relaxation techniques. This stuff works, but only if you practice it. Next time you are startled and feel your heart rate shoot up, practice calming yourself through deep abdominal breathing and positive imagery. Next time you have an emotional confrontation or even just a welling of emotion, practice these skills. Sometimes when I am speaking in front of a crowd, touching on something poignant, I feel myself starting to cry and I view it as an opportunity to push through and take control of the emotion. Calming yourself and steeling your emotions is not always easy but like any skill, it gets easier when you practice.
There's so much you can do to improve your horsemanship, even when you are secluded at home, unable to ride or feeling disconnected from the sport. While it's great to have a trainer and/or riding instructor to motivate you and guide your learning, with some dedication and self-discipline, you can achieve your goals independently.
Take the time to study, read, watch and listen. Study classical riding theory and science-based research on horse behavior and training. Improve yourself physically and learn to steady your emotions. It's a wholistic approach, to address the Mind, the Body and the Spirit in your horsemanship pursuits, and it will cause your horsemanship to soar. Regardless of your current situation, there is much you can do to become the horseperson your horse deserves!