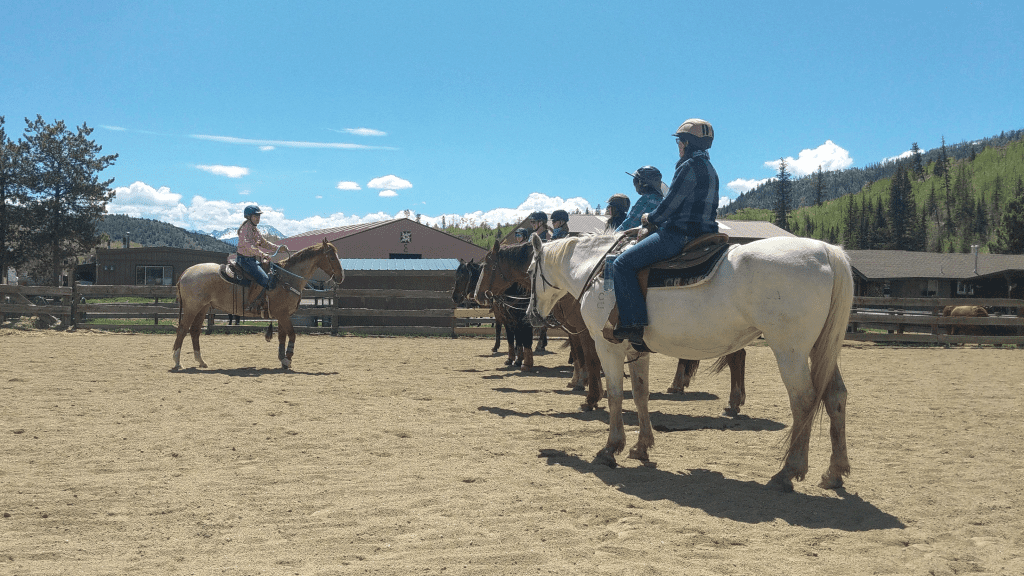 After almost two decades of being a road warrior, traveling 20-30 times a year to clinics and public speaking at horse fairs and conferences, I suddenly found myself grounded when travel came to a screeching halt in March. The writing was on the wall a week or two before the shutdown, when events on my calendar started cancelling one by one. By the time the shutdown was official here in Colorado (March 16th), I was already starting to panic about how I would make a living if there were no live events for me to attend.
At first, my normal weekly rhythm—pack, travel, work the weekend, fly home, unpack/laundry, then start packing again for the next trip—was completely disrupted. For a week or two, I felt like I was going in circles—not knowing what to do next or even what day of the week it was. At first, like a lot of people, I thought it would be great to have a break from travel, to be at home more, have more time to ride my horse, garden and complete scores of back-burner projects. I eased slowly into this newfound freedom, but it never seemed to fit me quite right.
Can Someone Please Explain What Just Happened?
It was scary—not knowing when I would travel again or how my business would suffer—could we pivot to find a new revenue model to replace the losses? I enjoy being on the road, meeting new horses and their people, seeing new places, eating at great restaurants. I missed networking with my peers, doing training demonstrations for the public, seeing old friends, making new connections, and helping horses. We were suddenly pitched overboard into unchartered waters. I couldn't help but fear that these things that I so loved would no longer be part of my life.
But then, something changed in me. A new normal took hold. I got used to the slower pace. I found more time to ride my bike, hike, boat, and fish. I no longer missed traveling and forgot about eating at restaurants. I got stuff done around the house, and yes, I was able to pivot my business model and keep my team gainfully employed by doing daily posts of horsemanship homework 7-days a week, throughout the shutdown.
At first, it seemed like all the events I was booked for through the summer, and even beyond, were going to cancel. It was a strange relief, finally accepting that staying at home was the right thing to do. But at the same time, it was disconcerting—surrendering instead of fighting for my business. And it was with this uneasy feeling of ambivalence that I greeted the news that my first post-covid public event—a riding retreat at the C Lazy U Ranch in Granby, Colorado—would be one of the first such events to happen as we approached the reawakening of our economy.
Life Resumes But It's Not Exactly Normal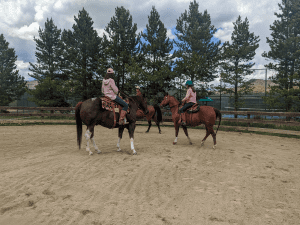 The Women's Riding & Wholeness Retreat—an innovative 4-day program that includes horsemanship, personal empowerment, and confidence building—is a program I co-teach alongside Barbra Schulte. The C Lazy U Ranch is a "5 Spur" guest ranch, nestled in the Colorado Rockies, with a herd of over 200 saddle horses. They offer all-inclusive luxurious vacations, steeped in horses, the Western lifestyle and outdoor adventure.
I've been conducting horsemanship programs at the C Lazy U several times a year, for more than a decade. I was totally confident in their ability to navigate this new germ-conscious world, knowing that during the shutdown they were working hard to figure out how to reopen safely. I knew, in typical C Lazy U fashion, that they would exceed governmental requirements and offer a shining example for hospitality businesses planning to reopen. Intellectually I knew this to be true. But in my current state of sheltering in place, withdrawing and retreating, I had very mixed emotions.
Is getting back to work important? Yes. Is it too soon? I don't know. Can we do this right? Yes. What exactly does that mean? I don't know. Who will come? Will they fly across the country to get here? Will it be life as normal? I doubt it. Can I speak over a microphone with a face mask on? (I would soon discover that you can't).
At the start of 2020, this program was full, with 36 guests. When the shutdown occurred, each guest was given the option of getting a refund, moving their registration to one of my fall programs, or staying enrolled for the postponed dates. Surprisingly, there was about a 30/30/30 split, and we ended up with 22 participants still registered for the clinic.
About a third of the guests were from Colorado (like me, driving a few hours to get there) and the rest were from out of state. Several women drove all the way from Tennessee. Some flew in from California, Georgia and Florida. There was certainly an atmosphere amongst those of us that made the trip that we were going to make this happen—and have a great experience—come hell or high water.
Let's Get This Party Started!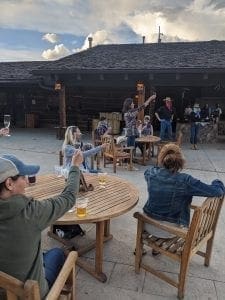 The C Lazy U made extensive plans and procedures for protecting their staff and their guests. Following county, state, and CDC guidelines—in fact exceeding them in most instances—I felt confident in the Ranch's attention to detail. Prior to the event, Barbra and I had several video conferences with Ranch management to discuss the procedures so that we presented a united front to our guests.
Prior to the start of the program, we were all asked to read about and agree to the procedures the Ranch outlined and be prepared for appropriate social distancing and wearing face coverings. Five days before the start of the program, we completed affidavits online about our current health and recent exposures. We completed the same forms again upon arrival at the ranch.
And so it was, that on Thursday, May 28th, we started our first post-covid horsemanship clinic, with 26 of us coming together, but staying apart. Barbra and I could not have hand-picked a better group of participants. We were all brave but cautious; excited to be there, but uncertain how to act; not letting covid define us, but being incredibly careful to respect and protect others—especially the staff at the ranch.
Horseback Riding is Perfect for Social Distancing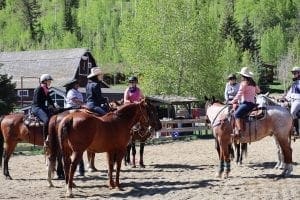 Turns out, once you are up on a horse, social distancing is easy! No one wants to get closer than six feet anyway, for fear of getting bit or kicked. We knew that once we were up on a horse and riding outdoors, we would have fewer concerns. But the fact remained that mounting and dismounting those horses could be problematic for maintaining proper distancing. Eating meals together and having workshops indoors were issues we had to mitigate.
Barbra and I were both confident in the extensive precautions the Ranch had taken. We felt strongly that we had a duty to set the right example for our guests and to get business functioning again. The precautions taken by C Lazy U (exceeding government guidelines) are far too extensive to list here, but I'll give you an idea of what we, as guests, experienced…
Face coverings: Everyone complied with the requirement to cover mouth and nose with a face mask, bandanna or buff (tubular neck gaiter) at all times when social distancing is not possible—indoors or out.

C Lazy U staff ALWAYS wore face coverings and gloves, indoors and out. We learned to recognize them by their eyes and body shape. Their temperatures were taken daily and everyone was very conscientious to look for signs of infection.

Instead of everyone meeting at the barn to mount, we were spread around the ranch at three separate mounting locations to reduce the number of people congregating in one area. Everyone (guests and staff) wore masks during mounting and dismounting, but once underway and away from others, we could pull the mask down.

Initially, we thought we would require riders to keep their masks on during riding in the indoor arena, but quickly discovered that would not work. Riding can be an aerobic activity, and with the high altitude at the ranch, breathing is hard enough without a mask. Keeping the end doors of the arena open and with half the number of riders as normal, it felt safe.

In addition to masks, riders were expected to wear their own riding gloves and each horse's tack was fully disinfected each day after use. You knew that your tack (and all other items around the ranch that may have been touched) had been disinfected because it was flagged with orange surveyor's tape each morning.

All our meals were eaten outside, around the pool (it was cold and rainy one night, so we retreated indoors for dinner). Seated at tables of four or six (which normally held 10 or 12 people), we were served gourmet food, family style. We developed our own policies at the table, like once one of us had touched a serving utensil, that person would serve everyone else, so as not to share utensils.

When you checked in (outside), you were asked how you prefer housekeeping to be handled. Guests had three choices: regular daily service, just replace towels and coffee, or no housekeeping. Whatever your comfort level, the Ranch would accommodate.

Small bottles of disinfectant were everywhere around the ranch, at your dining table and in the workshop room. Spray bottles of disinfectant were in the public bathrooms, along with instructions about how to spray, wash your hands and exit without contamination.

For our indoor workshops, we were relocated from the normal conference room to a larger building that would better accommodate social distancing. The big converted haybarn allowed the ranch to place comfy, upholstered chairs, spread around with plenty of space in-between. Hand sanitizer was always within reach.
We Did It!
Although I initially had some ambivalence about having the clinic, that uncertainty melted away once we arrived at the Ranch. As always, it felt like coming home. I had complete confidence in the C Lazy U staff and management, and they didn't let me down. We felt safe and taken care of, the whole time. The flexibility of the staff to meet the needs of each guest was amazing, but they never compromised on safety.
I will say that as guests, we were all very conscientious about face coverings at first, but as we ate our meals together, rode together and participated in workshops together, there was some erosion to the policy. By the middle of the clinic, many guests were forgetting their masks or getting lax, particularly when amongst ourselves.
Still, we worked hard to respect the health and comfort level of the people around us—staff or guests. We so appreciated the C Lazy U staff and their willingness to put themselves at risk for our personal benefit, and we always made a point of pulling our face coverings up when around them.
Everyone in our group had a different level of comfort in terms of wearing masks and being close to others and we all respected one another. Afterall, covering your mouth and nose around others is a sign of respect and a selfless act.
What Happens Next?
Sadly, this was not only my first post-covid horsemanship clinic, it was my last one for a while. All my other events have been cancelled or rescheduled for 2021 until the next time I go to C Lazy U in September. I normally take time off in the summer anyway, so for now I am content to stay at home and train horses in front of a camera instead of an audience.
I am still ambivalent about getting "back to normal," as it relates to getting on a plane and traveling from coast to coast. But I love my job—going to where the horses are and helping people get along with them better— and I look forward to resuming my travels. I'm doing my best to stay informed of the facts, listen to the experts, to resist falsehoods/rumors/conspiracy theories, and to keep an objective view.
In the meantime, my team and I are working hard to stay connected with our followers around the world and to grow our business in new directions. Our online streaming services and online training programs are enjoying a surge of activity. And one day soon, we'll all be participating in horsemanship clinics, horse fairs, horse shows, and group trail rides again—albeit with modifications. I am confident and I am patient.
This too shall pass, and when we get to the other side, we'll be stronger—both as individuals and as a society. I look forward to seeing you at a horse event soon!