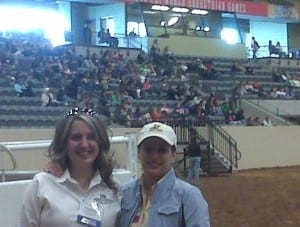 I am on the way home from Lexington, Kentucky, where I spent the weekend at the National Youth Horse Leader's Symposium, an annual conference put on by the American Youth Horse Council, whose mission is to unite and provide resources for all of the organizations that serve youth in the horse industry. It's been a while since I attended the symposium and it was good to be back and see a lot of old friends and colleagues. I was only there for one day and two nights and I did a seminar, a keynote speech and an arena presentation at the KY Horse Park (site of the World Equestrian Games that will be held this fall, for the first time ever in the US). I'll be back for the Games and the accompanying International Equestrian Festival in the fall…

My workshops were well-attended and a lot of fun. It is an enthusiastic group—mostly 4H leaders from around the country, as well as Pony Club leaders, instructors and representatives of various breed organizations. I am always impressed how hungry this crowd is for new information that will help them be better leaders. We had a lot of fun in my seminar on "making the most of your unmounted meetings" where I shared some fun exercises that can be done off the horse that will help improve rider skill.
My arena presentation was about teaching group riding lessons and it was in the new indoor stadium that was built for the WEG. Now I see why the tickets to the games are so expensive! It's a nice coliseum but it only holds 5200 seats so even the top rows offer excellent viewing of the arena floor. I am hoping I'll get to see a little of the WEG competition when I am there this fall. Are any of you planning to go to Lexington for the World Games?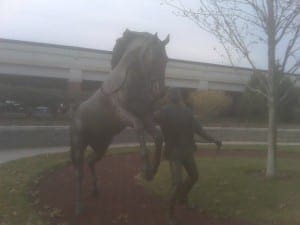 My keynote speech was titled, "Horses are a Journey, Not a Destination." It was a philosophical, humorous and auto-biographical look at my life with horses. I don't routinely give keynote speeches since usually I am teaching something specific and not waxing poetic. But I always enjoy doing something different, even though it requires more effort and preparation on my part—I can't just step into the arena and wing it. I spent a fair amount of time working on this speech in the past couple weeks and then practiced reciting it dozens of times in my hotel room. But, I think it came out pretty good. Here are a couple out-takes from the whole speech (which is much to lengthy to post here):
"…Believe it or not, I was a very shy and introverted child. My parents were worried that I didn't have any friends and concerned that I chose to spend my time in my tree fort in the horse pasture instead of hanging out with the other kids after school. The first thing I learned from horses was a sense of freedom and empowerment. Riding gave me an incredible sense of power and adventure as a shy little girl. I was never happier as a kid than when I was in the barn with the horses. I rode like the wind, usually bareback, in my bathing suit with no shoes, much to my mother's dismay. I craved running the horses up and down the long rows of trees in the orange grove, the faster the better. I didn't need any human friends because I was content to mingle with the herd and whisper secrets into my horse's neck. This was far more preferable to me than slumber parties and hanging out with friends after school."
"…From a very early age, my horse journey has taken frequent detours in the direction of humility. What is it about a horse's uncanny ability to bring you to your knees at the very moment you expect it the least? Have you ever bragged on a horse, only to have him embarrass you moments later? You'd think by now I would have learned this lesson thoroughly, having been periodically humiliated by horses all my life. But just the other day, I found myself saying, "this horse never spooks." No sooner were the words out of my mouth than I was proved wrong. Note to self: NEVER say a horse doesn't spook, especially to a prospective buyer! So I spent the next hour eating my words and amazingly, I sold the horse anyway. But the lesson to be learned here is that if you talk bad about a horse, he will be good and if you talk good about him, you may be eating a crow sandwich any minute."
"…Beyond anything else perhaps, horses have taught me to have a big heart and to always try hard. After more than 30 years as a horse trainer, I am still constantly amazed at a horse's ability to try hard to do what we ask– in spite of us. He takes the jump again and again, in spite of frequent interference from the rider. The horse that goes to work every day in a saddle that is so ill-fitting that it leaves white scars on his back or abscessed withers. The horse that keeps trying to find the right answer even though the rider jerks at his mouth and draws blood with his spurs. A horse that keeps going past the horse-eating trash can because you told him to, even though every cell in his body is shaking with fear. The horse that wins every race until the day his heart overpowers his body and he breaks down physically."
Everywhere you go in Lexington, there are reminders of how important horses are. The airport is on Man O' War Blvd and almost every major thoroughfare is named after a legendary stallion. The incredible horse farms with mares and foals basking in the sun and munching bluegrass are almost everywhere you look. Incredibly beautiful life-sized sculptures of horses all over the city including a display downtown of about 10 race horses and jockeys running for the finish line. I've included a shot of one of the many sculptures at the airport as well as a shot of me at the KHP arena with Fernanda Camargo, from the U of KY, who was kind enough to help facilitate my presentations.
Enjoy the ride!
Julie