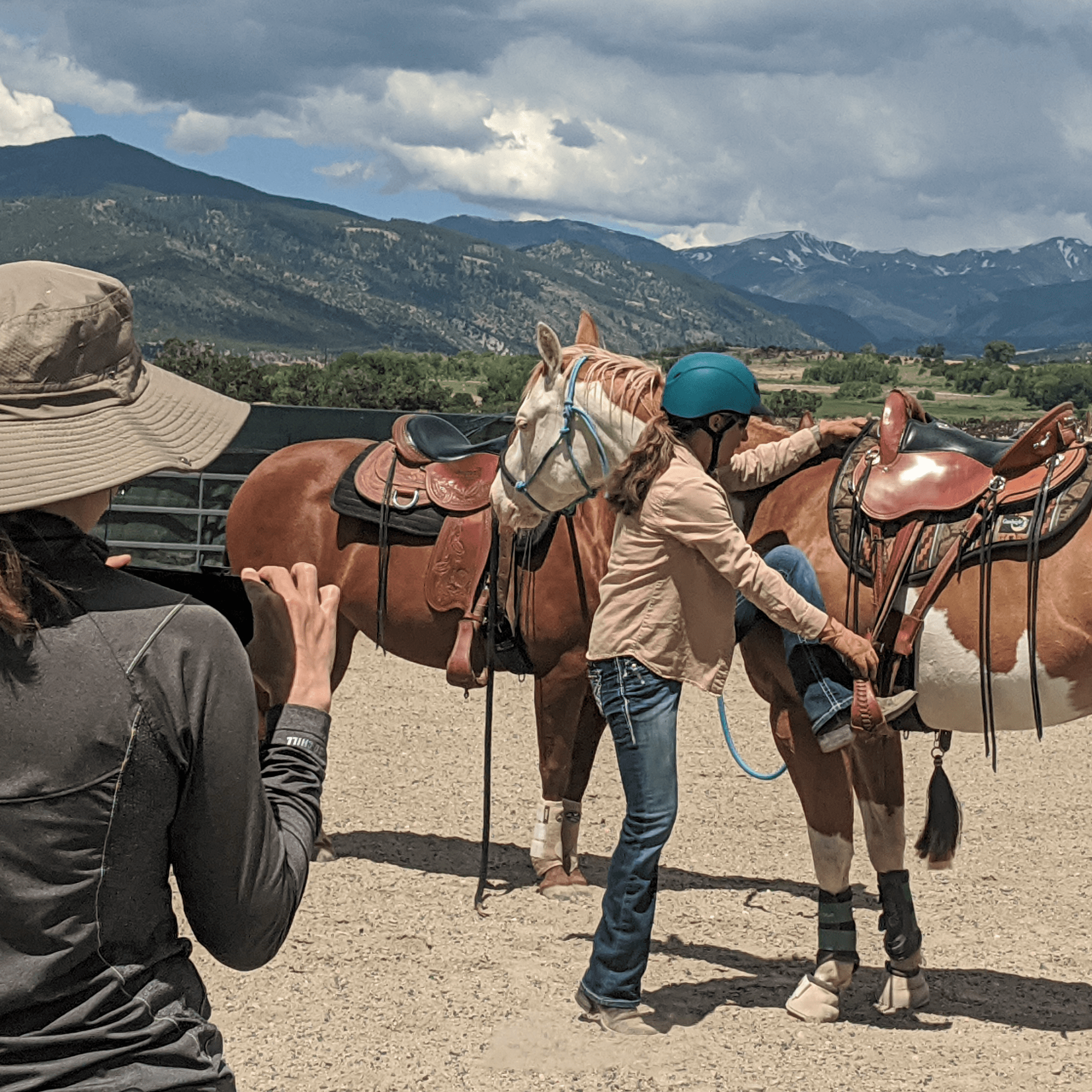 Dear friends,
It's definitely been an interesting summer so far. Like so many of you, I'm getting used to a new way of doing business, and so far, I've managed to fill in the holes in my schedule that came from cancellations of events everywhere. My days have been filled with live posts and daily video lessons, coaching online students and recording podcasts and voiceovers. Believe it or not, the planning and preparation consumes just as much time as the doing—especially with half of my team working from home.
But our efforts have paid off, and we've increased our online content while managing to stay connected to our audience. Many of you have been following the story of Training Doc Gunner, which have come to you over the last six weeks via live posts on Facebook. Gunner is a 4 year old deaf Paint gelding, rescued in Kansas, ending up in Oklahoma City, and then sent to me in Colorado for fostering. His story is compelling, and people have enjoyed watching his training real-time. We are using this social campaign to bring awareness to the hundreds of thousands of horses at risk in this country (now more than ever) and how you can help. To find out more about organizations doing the good work to save horses in your area, and how you might help, visit www.MyRightHorse.org.
At the end of May, Barbra Schulte and I conducted a fabulous riding retreat at the C Lazy U Ranch, and I am happy to say that everyone was smart, observed social distancing, and wore face coverings when appropriate. We all stayed healthy and had a great time (read about it in last month's blog). I'm looking forward to the three riding programs I will offer at C Lazy U in the fall (2 of them are brand new programs!). I'm hopeful that I will also be traveling to College Station, TX, in October, for the CHA Conference; and if my luck holds out, I may be in Myrtle Beach SC in November for the AHA Beach Ride. Even with the unusual schedule changes happening lately, you can always find the most accurate information about my public appearances here.
Adjusting to the covid crisis has meant modifying the way I operate and looking for new ways to connect with horse lovers. One day soon, I'll get back to traveling, and already we are seeing an increase in the number of people interested in private horsemanship clinics at their own facilities. All of the big events I had booked to be a presenter at in 2020 that were cancelled have rebooked me for 2021, and the producers are looking forward to next year. We are looking at platforms to offer virtual horsemanship clinics where I can help you with your horse from a distance and at live-streaming horsemanship clinics so viewers everywhere can benefit.
Meanwhile, we continue to invest in our robust online streaming services and membership programs. Horse people, widely known to be late adopters of technology, are clearly availing themselves of it now. I am proud to say we have some of the best tech support and customer service out there—Diana spends a lot of time helping our customers navigate the unknown, so even the techno-phobic horse lovers can learn and study online with ease! If you haven't checked out my Daily Doses of Horsemanship Homework, they are still available online for free, so get it while you can. And I hope you will join me on my weekly live posts on Facebook, Training Doc Gunner.
There may never be another summer quite like this one (let's hope), but I'm a big fan of looking on the bright side. I've got more time at home now to do what I love doing, I'm involved with some exciting new projects and I'm still seeking the opportunities that I know are out there waiting for me. I hope you too are healthy, safe and able to find some goodness in all the gloom.
Enjoy the ride,
Julie