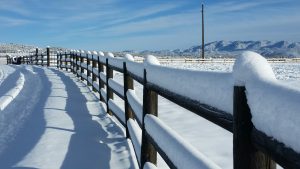 Dear friends,
I've been running so fast the last few months that I am having to adjust to a new routine, now that I am into my winter break from business travel. That means more time to unwind and enjoy the holidays, more time to spend with my horses and—according to my Fitbit—an average of two more hours a night of sleep! Yeah Baby, I'll take it!
This is also the time of year we reflect on our accomplishments and make plans for next year, both personally and professionally. I've got a lot of exciting plans for 2018, not the least of which is an all-new format for Horse Master which you'll see starting in January. After 10 years of producing the show and listening to your comments, we are reformatting the show to go much more in-depth with each horse and rider— more horse training and more of my guest's stories. I'm really excited about it and I hope you love the changes!
We're also busy booking clinics and expos for next year and it looks like we may be opening up some new venues both in the US and abroad. Stay tuned for more on that and remember, check my website for my most up-to-date schedule.