Good day!
I am enjoying another perfect summer day here at home. Even managed to get caught up on some gardening projects and household chores. I have one more major reorganization project to tackle here in the office, then it'll be time for a ride.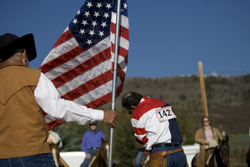 I'd better finish the Memorial Day weekend story or I'll soon be more than a week behind my life. My last post took us to the middle of the second day of VRH clinics and our turn at the Working Cow clinic. We were thrilled to have one of the top clinicians in the country, Sandy Collier of Buelltin CA, www.sandycollier.com .
Sandy has a talent for getting a lot of information across in a short amount of time. She explained the procedures for "boxing" the cow on the end of the arena and showing how your horse can control the cow (it's similar to cutting except that there is only one cow and you are holding him on the fence). In VRH, after you have boxed your cow, you take him down the long wall of the arena, past the middle marker, turn him back on the wall, run him past the middle marker again and turn him again. This usually is high-speed and thrilling (or sheer terror for some).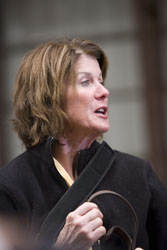 Before starting the live-cow work, we did an exercise with two horses—one rider pretending to be the cow, one being the horse/rider herding the cow. I discovered that this exercise only works when your partner knows how to act like a cow 😉 but it helps you gel the theory in your mind before trying it on a cow.
We practiced moving the cow by putting your horse's nose at his flank and circling the cow by putting your horse's nose at the cow's ear. I learned a key exercise for my chargey, over-zealous cow horse that relates back to what I learned about him in the cutting clinic—the reward is the cow. If Dually makes a frantic charge at the cow, instead of stealthily sneaking up behind him to turn him, I immediately take him off the cow, put him directly behind the cow and just let him push the cow around the rail into the corners. We'll continue at that pace, just following the cow, until he is relaxed and then try sneaking up on the cow again. Every time he gets chargey, we start following the cow, pushing him down the rail instead of turning. Once he makes two good turns on the cow, we quit.
Still trying to preserve my horse's back for the schooling competition the next day, I only worked him once on a real cow. I was proud of my determination not to over work him, but as I took him back to the trailer I had a nagging concern that I perhaps had not worked him enough and he would be too fresh tomorrow. But since Dually was on a heavy dose of Alleve, I felt it prudent to err on the side of caution since twice before I have been unable to compete on him after a two-day clinic.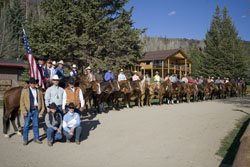 I tried this rail work exercise yesterday, training here at home, and it worked great! We also roped a little and I had two good catches and stops J I guess I am going to have to finish his story in a fourth part, because now I have to get some work done and so I have time to ride my horse. Next I'll share what competition day is like in VRH and let you know how we all did at the competition.
Until then, ride safely!
Julie
Please visit Goodnight's sites for more information and training tips:
http://www.juliegoodnight.com
http://www.horsemaster.tv